Day in the Life of Great Hammerhead Sharks
Erin Spencer

, Science Writer & Marine Ecologist
Florida International University

Erin Spencer shares how she uses "shark FitBits" to study the movement and behavior of great hammerhead sharks.
Select Supplemental Content:
Educators- would you like to be kept up to date on ANGARI ocean science education content & programs like this? If so, please complete our Educator Registration form!
PRESENTER BIO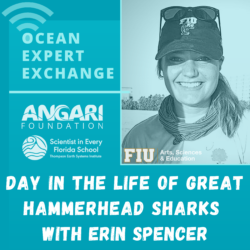 Erin Spencer is a science writer, marine ecologist and Ph.D. candidate in Biology at Florida International University studying great hammerhead sharks. Her research uses biologgers, or animal-mounted data collecting devices, to record acceleration, speed, depth, and more, which helps us understand shark energy needs and movement patterns. Prior to working in Florida, she received a Masters in Ecology from the University of North Carolina – Chapel Hill where she studied red snapper fishery management and seafood mislabeling, and a Bachelors in Ecology from the College of William and Mary where she studied invasive lionfish management. She is a three-time National Geographic Explorer grantee and has given talks to groups of all ages through National Geographic, the World Bank, and TEDx, as well as many school groups. She is also an avid writer and has a children's book called The World of Coral Reefs that was published in March 2022.
Ocean Expert Exchange is a live educational webinar series featuring experts in marine science and technology, many of whom have participated in expeditions onboard R/V ANGARI. The 30-minute live events welcome audiences of all ages and include a presentation on the speaker's area of expertise followed by Q&A with participants. The series is co-hosted by ANGARI Foundation and the University of Florida Thompson Earth Systems Institute's Scientist in Every Florida School program.