South Florida Teachers taking part in the University of Florida Thompson Earth Systems Institute's Environmental Education Fellowship learned about and participated in shark research offshore Miami with scientists from Florida International University. 
Sara Casareto
John Hernandez
Will Sample
Sara Schoen
Erin Spencer
All sharks were fished for, caught, studied and released for research purposes under Florida permits held by Florida International University scientists.
Scientists from Florida International University's College of Arts, Sciences and Education were joined by public school teachers from Miami-Dade and Palm Beach Counties onboard R/V ANGARI to experience our Coastal Ocean Explorers: Sharks program firsthand. This expedition was part of the University of Florida Thompson Earth Systems Institute's Immersive Environmental Education Fellowship. This week-long program provided unique hands-on opportunities for teacher fellows to gain environmental science knowledge and confidence, and access to environmental science experts to facilitate lesson plan development on topics like invasive species, biodiversity, climate change and more.
During the expedition, the participating teachers and UF science mentors worked side-by-side with the FIU scientists to learn about and put into practice specialized methods for studying sharks. Drumlines, or specialized research fishing gear designed to minimize animal stress using circle hooks and a configuration that allows sharks to continue to swim freely after being hooked, were employed to fish for sharks offshore of Miami Beach. The teachers participated in all steps of the assembly, baiting, deployment and recovery of the drumlines. While no sharks were caught, the teachers learned about a variety of shark research methods, including the workup and tagging process which was simulated via demonstrations on a model shark. Participants also learned about the importance of sharks in the local ecosystem, gaining content knowledge, experiences and inspiration they will be able to use to bring relevant marine science topics to their students and classrooms.
This expedition was made possible by support to UF TESI from The Batchelor Foundation.
CHIEF SCIENTIST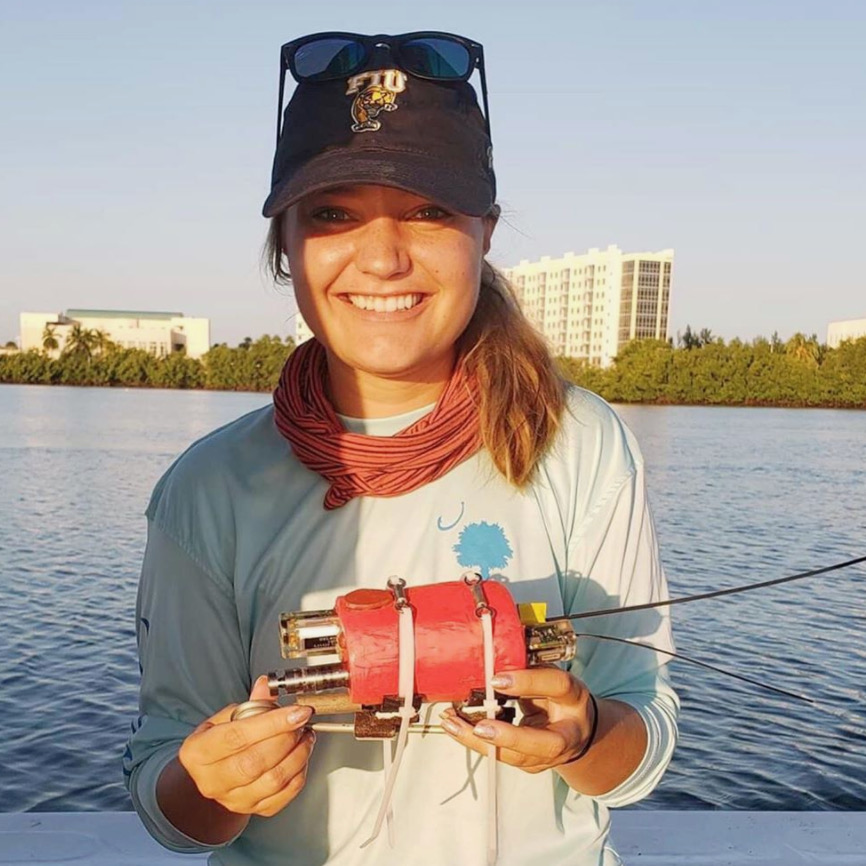 Erin Spencer is a science writer, marine ecologist and Ph.D. candidate in Biology at FIU. Her research uses biologgers, or animal-mounted data collecting devices, to record acceleration, speed, depth, etc. that helps us understand great hammerhead shark energy needs and movement patterns. Prior to working in Florida, she received a M.S. in Ecology from the UNC – Chapel Hill where she studied red snapper fishery management and seafood mislabeling, and a B.S. in Ecology from the College of William and Mary where she studied invasive lionfish management. She is a three-time National Geographic Explorer grantee and has given talks to groups of all ages through National Geographic, the World Bank, TEDx, and schools. Erin is an avid writer and published a children's book called The World of Coral Reefs. She is also passionate about science education and serves as a lead scientist for ANGARI's Coastal Ocean Explorers: Sharks program.