LAKE WORTH LAGOON DRIFT CARD STUDY
The Lake Worth Lagoon Drift Card Study (AKA Lagoon Drift) is a citizen science program that uses a series of coordinated releases of small eco-friendly wooden drift cards to study the motion of water and pollutants in waterways in and around the Lake Worth Lagoon. The study solicits the help of local community members in creating, decorating, deploying, locating, and reporting found drift cards to get a better understanding of how marine debris is transported and accumulates in our area. ANGARI Foundation and our Palm Beach County partners also use this project as a tool to engage the community in the conversation about human impacts on the environment, including plastic pollution and other types of marine debris, and the effects they have on marine life.
Palm Beach County Lagoon Drift experiments began in 2017 as an extension of the Biscayne Bay Drift Card Study (AKA Bay Drift) initiated by the Consortium for Advanced Research on Transport of Hydrocarbon in the Environment (CARTHE) at the University of Miami. CARTHE developed the Bay Drift project in 2016 in an attempt to understand the origins of the growing marine debris problem seen along Miami shorelines and, in particular, at Vizcaya Museum & Gardens.
November 2019 marked the fifth Lagoon Drift experiment initiated by ANGARI Foundation and their partners, which include area schools, businesses, non-profits, and environmental education centers.
INDIAN RIVER LAGOON DRIFT CARD STUDY
New in November 2019 was a pilot of the Lagoon Drift program in the Indian River Lagoon under the direction and coordination of the Florida Department of Environmental Protection (FDEP) – Indian River Lagoon Aquatic Preserves. The yellow Lake Worth and pink Indian River Lagoon Drift cards were both released on November 2, extending the experiment coverage area from Palm Beach County north to Brevard County.
How It Works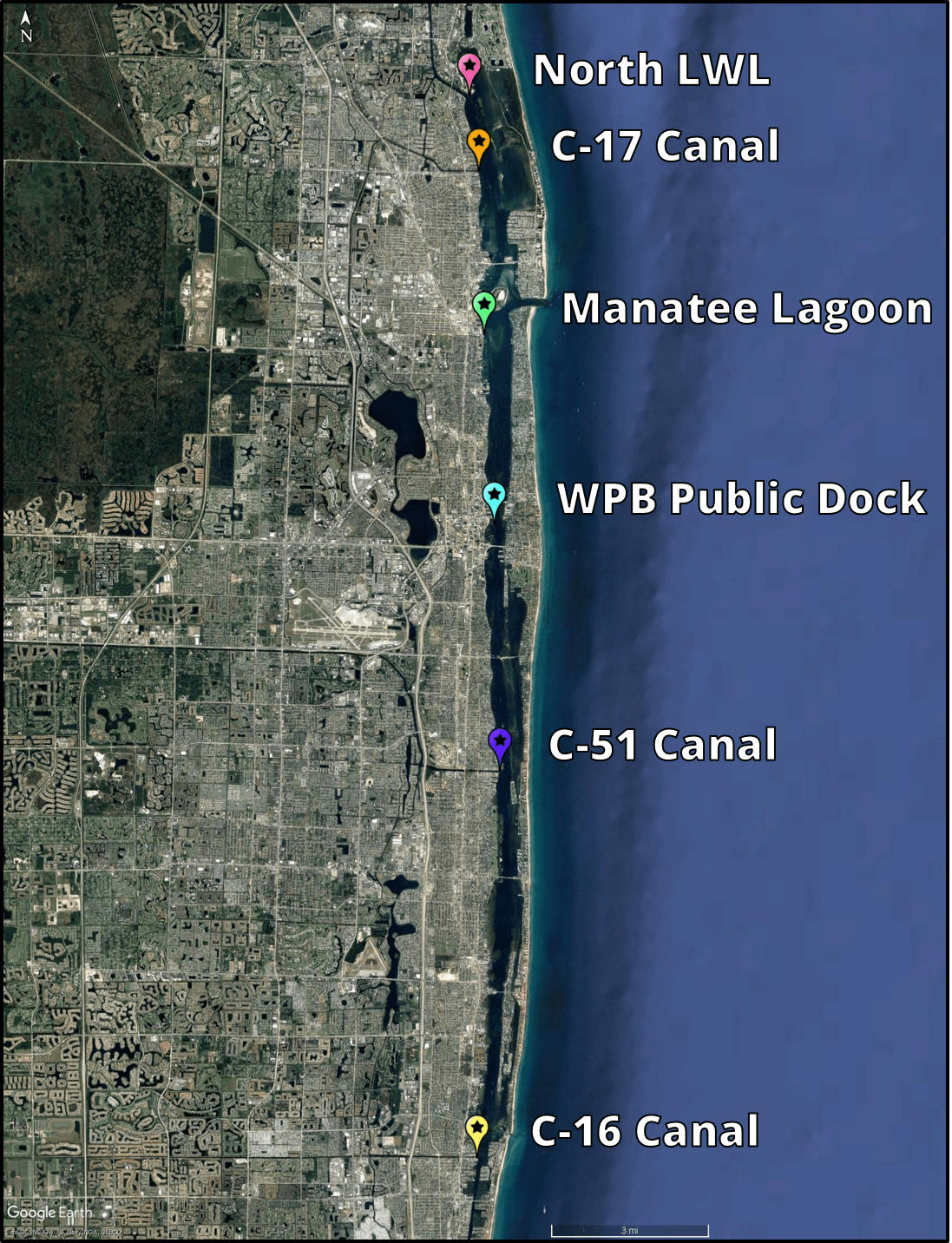 Drift cards (40 from each locality) are  simultaneously released from

sites

around the Lake Worth and Indian River Lagoons.

Drift cards float on the water surface and are carried by local currents.

Citizen scientists (this could be you!) recover the drift cards and report their findings to the email address designated on the drift card.

We gain new insights into the way marine debris moves in and around Florida's coastal waterways.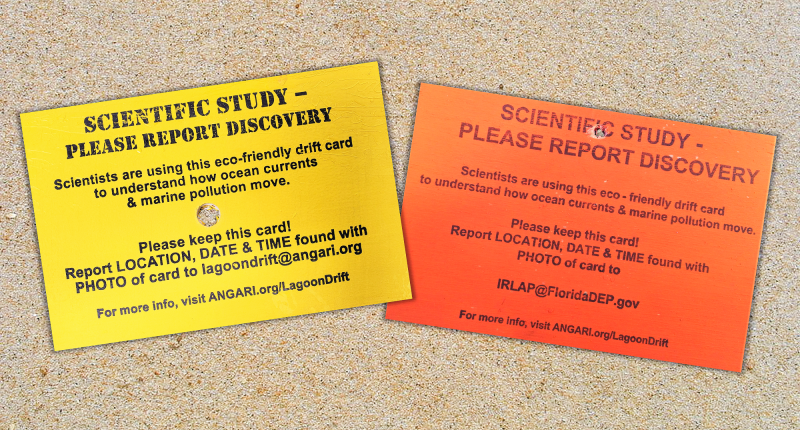 The drift cards were designed by the CARTHE research team to enable the study of localized ocean currents without negatively impacting the marine environment. Each eco-friendly card is:
Roughly 4" x 6" and cut from untreated 3/16" plywood.
Painted with non-toxic, zero-VOC paint in bright colors to make them easier to spot.
Stamped and decorated with non-toxic ink and markers.
Designed to float on the surface and be carried by currents, but small enough to avoid posing a threat to waterway navigation.
Intended to water-log, sink and begin to degrade after 2 weeks and should not have any ill effects on the marine environment.
WANT TO GET INVOLVED?
Follow ANGARI Foundation on Facebook to learn more about the project and upcoming Lagoon Drift oriented events.
Take to the water in the weeks that follow the Lagoon Drift card release. If you find a drift card, please keep it and follow the stamped instructions to report all requested info.
Make a commitment to combat marine debris by picking up and properly disposing of any debris you see around town, at the shore or out on the water!
If you have any questions or would like to become a program partner, please email lagoondrift@angari.org.
Media inquiries can be sent to media@angari.org.
Lake Worth Lagoon Drift In The News
Indian River Lagoon Drift In The News