Thirteen educators from Florida and beyond boarded R/V ANGARI to experience marine science research first-hand as part of our Coastal Ocean Explorers: Sharks program in partnership with Florida International University.
Sara Casareto
Candace Fields
Mia Gabb
John Hernandez
Erin Spencer
Deirdre Stinson
All sharks were fished for, caught, studied and released for research purposes under Florida permits held by Florida International University scientists.
Formal and informal educators joined ANGARI Foundation crew and Florida International University (FIU) scientists from the College of Arts, Sciences & Education for a summer Coastal Ocean Explorers: Sharks expedition. While the majority of the participating educators were from Palm Beach County, teachers from Pasco, Seminole and St. Lucie counties in Florida, and even Boston, Massachusetts were also in attendance. This full-day interactive program exposed the participants to shark science related topics, resources and research, while allowing them to work side-by-side with FIU scientists aboard R/V ANGARI to put their new STEM knowledge and skills to the test. 
The day began offshore Palm Beach County where the expedition participants worked in teams with the FIU scientists to prepare, deploy and recover drumline fishing gear. Drumlines are specialized for shark research and specifically designed to reduce stress on the animals. After deploying just four drumlines, a 10-foot female tiger shark was caught. The educators were able to observe as the scientists collected a variety of measurements from the shark, including the pre-caudal, fork and stretch total lengths. The shark was also tagged with a uniquely numbered spaghetti tag from NOAA's Cooperative Shark Tagging Program which will allow for data comparison if the shark is ever recaptured. In the afternoon, the participants transitioned from fishing to using baited remote underwater video systems (BRUVS) to observe and assess the diversity and behavior of marine life in the Lake Worth Lagoon. Upon review of the underwater video, all aboard were excited to see that they had captured footage of an abundance of fish species, including an inquisitive nurse shark!
This expedition was made possible with funding from the Great Charity Challenge.
CHIEF SCIENTIST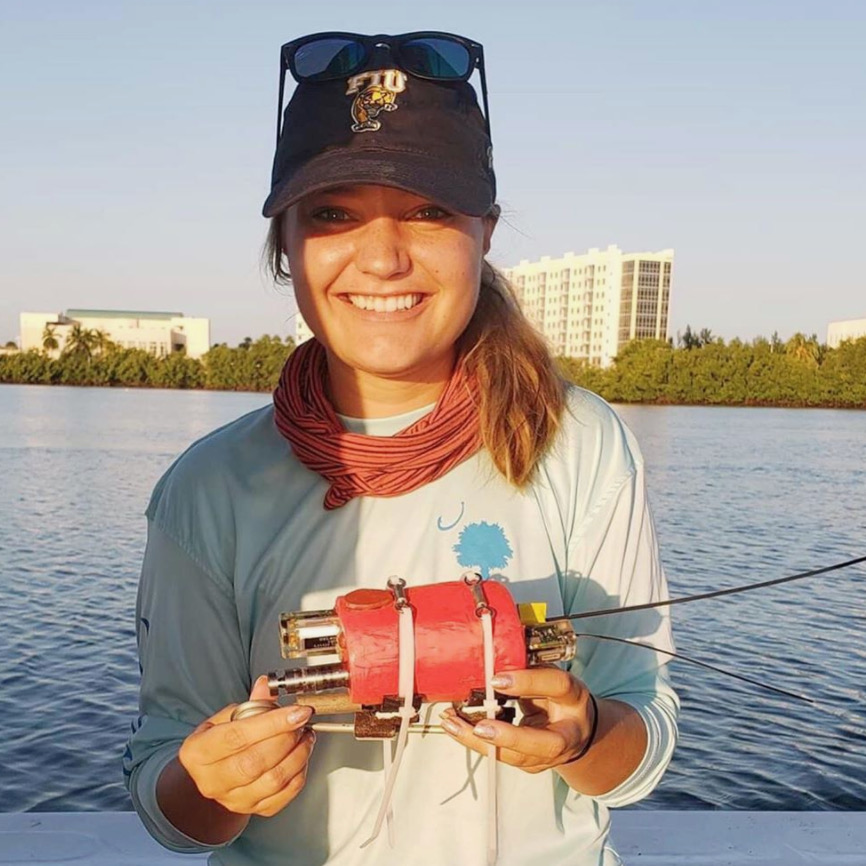 Erin Spencer is a science writer, marine ecologist and Ph.D. candidate in Biology at FIU. Her research uses biologgers, or animal-mounted data collecting devices, to record acceleration, speed, depth, etc. that helps us understand great hammerhead shark energy needs and movement patterns. Prior to working in Florida, she received a M.S. in Ecology from the UNC – Chapel Hill where she studied red snapper fishery management and seafood mislabeling, and a B.S. in Ecology from the College of William and Mary where she studied invasive lionfish management. She is a three-time National Geographic Explorer grantee and has given talks to groups of all ages through National Geographic, the World Bank, TEDx, and schools. Erin is an avid writer and published a children's book called The World of Coral Reefs. She is also passionate about science education and serves as a lead scientist for ANGARI's Coastal Ocean Explorers: Sharks program.