Independence Middle School's SciQuest Academy boarded R/V ANGARI for a Coastal Ocean Explorers: Sharks expedition with ANGARI crew and scientists from Florida International University.
Graceanne Barksdale
Sara Casareto
Sophia Hemsi
John Hernández
William Sample
Erin Spencer

All sharks were fished for, caught, studied and released for research purposes under Florida permits held by Florida International University scientists.
Students and staff at Independence Middle School's SciQuest Academy started the 2023-2024 school year off by participating in the first COE: Sharks expedition of the fall semester! The participating students and teachers spent the day working side-by-side with researchers from Florida International University's (FIU) College of Arts, Sciences and Education to experience marine science fieldwork in action. The participants worked in teams with the scientists to execute two different shark research methods. First, they fished for sharks using specialized research fishing gear called drumlines in order to sample, measure and tag sharks in the area. Second, they deployed a baited remote underwater video system (BRUVS) to observe sharks and other marine life in their habitat.
The students assembled and set the drumlines, from baiting the circle hooks to attaching large research buoys and deploying the assembly overboard. After a one hour soak, the students worked together to retrieve the drumlines and check for sharks! After fishing was completed offshore, the team moved inshore, and students helped build and deploy a BRUVS. Taking turns, the students attached the BRUVS arm, GoPro and bait box to its large metal frame and gently lowered the scientific instrument into the water. Review of the BRUVS footage revealed a curious goliath grouper that spent quite some time investigating the camera rig! Although no sharks were caught this day, R/V ANGARI celebrated her 70th expedition, an exciting milestone that the ANGARI crew was thrilled to share with fantastic students, educators and scientists.
This expedition was supported by SciQuest Academy sponsors.
CHIEF SCIENTIST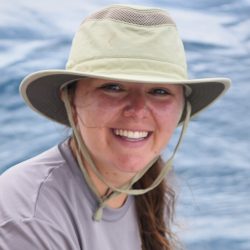 Sara Casareto is a Ph.D. candidate in the Marine Community and Behavioral Ecology Lab at Florida International University.  Her work focuses on behavioral ecology and trophic interactions. Her current research centers around elasmobranch biology and ecology, looking at different factors that affect juvenile shark behavior and decision making in coastal waters. The specific questions she is interested in involve risk from larger sharks, abiotic factors like salinity and temperature, and the presence/absence of different shark species. Originally from Maryland, Sara has been in Florida since 2016. She holds a B.S. in Biology-Marine Science from the University of Tampa and has studied marine species ranging from sharks to photosynthetic sea slugs. Sara hopes to further her career in predator-prey interactions to help elucidate management and conservation strategies for shark and ray populations. A passionate educator, Sara is involved in outreach through National Geographic and The Rookery Bay National Estuarine Research Reserve and ANGARI Foundation.