Students and teachers from Oxbridge Academy joined scientists from Florida International University for a productive day of shark research in the Lake Worth Lagoon.

Sara Casareto
Sophia Hemsi
Rainer Moy-Huwyler
Will Sample
Erin Spencer
All sharks were fished for, caught, studied and released for research purposes under Florida permits held by Florida International University scientists.
R/V ANGARI and crew welcomed aboard scientists from Florida International University's (FIU) College of Arts, Sciences and Education and high school students and teachers from Oxbridge Academy for a Coastal Ocean Explorers: Sharks expedition within the Lake Worth Lagoon. Over the course of the day, the participants worked side-by-side with the FIU scientists to assemble, bait, deploy and recover shark research field gear, including drumlines and baited remote underwater video systems (BRUVS).
Drumlines were used for fishing throughout the expedition. This specialized research fishing equipment includes circle hooks and a configuration that enables caught sharks to continue to swim freely after being hooked, both of which minimize stress on the animal. The drumline deployments were a success, with one great hammerhead shark and one nurse shark caught! The great hammerhead shark measured 11.7 feet in total length and was quickly and efficiently worked up and tagged with a unique identifier dart tag by the FIU scientists prior to release. Once the nurse shark was secured, the Oxbridge students were able to assist with determining the sex of the shark and gathering a series of measurements from it prior to release. The participants also helped to recover the BRUVS, and reviewed the video footage in R/V ANGARI's indoor lab, working in teams to put into practice their species identification skills.
We would like to thank Flotilla Club in West Palm Beach who served as an exceptional home port for the expedition.
This expedition was supported by Oxbridge Academy.
CHIEF SCIENTIST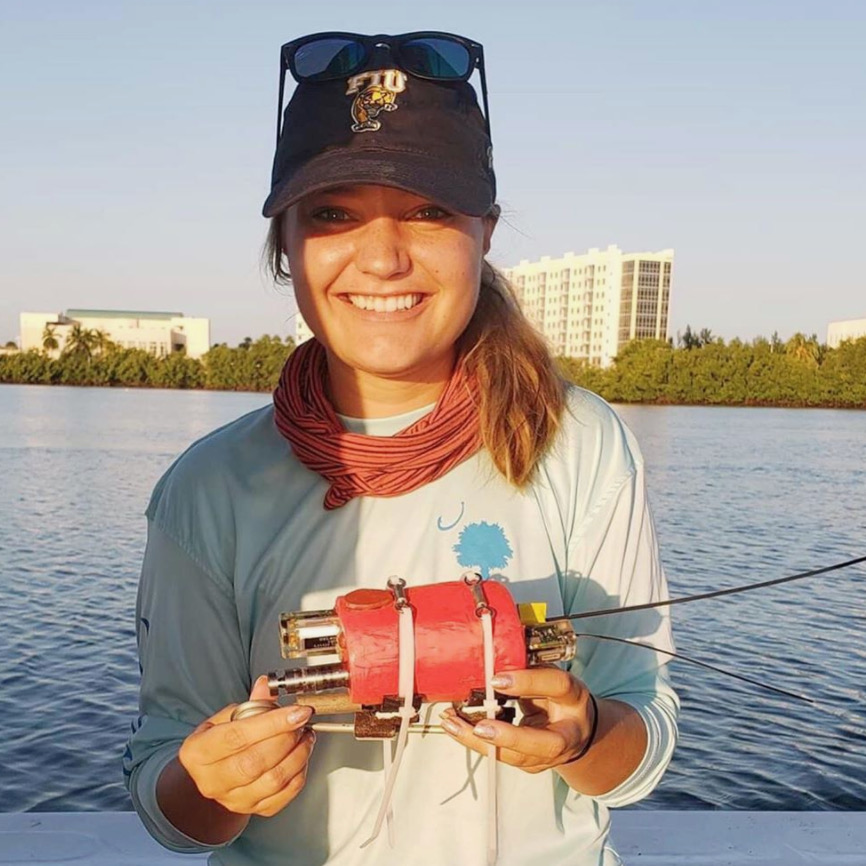 Erin Spencer is a science writer, marine ecologist and Ph.D. candidate in Biology at FIU. Her research uses biologgers, or animal-mounted data collecting devices, to record acceleration, speed, depth, etc. that helps us understand great hammerhead shark energy needs and movement patterns. Prior to working in Florida, she received a M.S. in Ecology from the UNC – Chapel Hill where she studied red snapper fishery management and seafood mislabeling, and a B.S. in Ecology from the College of William and Mary where she studied invasive lionfish management. She is a three-time National Geographic Explorer grantee and has given talks to groups of all ages through National Geographic, the World Bank, TEDx, and schools. Erin is an avid writer and published a children's book called The World of Coral Reefs. She is also passionate about science education and serves as a lead scientist for ANGARI's Coastal Ocean Explorers: Sharks program aboard R/V ANGARI.