Researchers from Florida International University's Predator Ecology and Conservation Lab led the Shark Conservation Fund Staff and Board on a shark tagging expedition onboard R/V ANGARI in Biscayne Bay, Miami.

Mark Bond
Mike Heithaus
Sophia Hemsi
Erin Spencer
Davon Strickland
All sharks were fished for, caught, studied and released for research purposes under Florida permits held by Florida International University scientists.
Researchers from Florida International University's (FIU) Predator Ecology and Conservation Lab led the Shark Conservation Staff and Board on a shark tagging expedition in Biscayne Bay, Miami aboard ANGARI Foundation's research vessel. The Shark Conservation Fund (SCF) is a philanthropic collaborative whose mission is to help maintain the vibrancy of the world's oceans by halting the overexploitation of sharks and rays through strategic and catalytic grantmaking. To develop protections for sharks, it is often necessary to understand their movement patterns, and this is precisely where shark tagging plays an important role.
SCF staff and board were excited to learn about shark tagging, recognizing its substantial contribution to the research that has informed many policy decisions, especially where to create protected areas. Over the course of the day, the FIU team taught and assisted SCF's staff and members in all aspects of catching and tagging sharks, including:
1) Deploying drumlines and hand reeling them back in:  The expedition kicked off by deploying specialized research fishing gear called drumlines. These lines are equipped with circle hooks and are designed to minimize the stress of a hooked shark by allowing them to continue to swim freely within a given radius. By employing this technique, researchers prioritize the well-being of the shark while ensuring that their research can be conducted as smoothly as possible.
2) Measuring shark length:  Measuring a shark's length serves multiple purposes. For example, it can provide researchers with an estimate of a shark's age, and if previously tagged and measured, it can offer insights into its growth rate. By comparing the current measurements with previous ones, scientists can track individual growth patterns and gain a deeper understanding of a shark's development over time.
3) Collecting tissue samples:  Tissue samples, such as fin clips, play an important role in shark research and conservation. DNA extraction from tissue samples can be used for accurate species identification, which is an important tool in identifying sharks in global meat and fin trades. DNA analysis also allows researchers to track sharks, examine relatedness among individuals and understand the genetic diversity in populations, which can be important to developing effective conservation strategies.
4) Tagging a shark:  Dart or spaghetti tags are commonly used to track marine species. During the expedition, a spaghetti tag, featuring a metal dart on one end and a tag number with contact details on the other, was used. If a tagged shark is recaptured by a fisherman or another researcher, and the tag is reported to the researchers that inserted it, they can compare the data originally collected and estimate population sizes and understand the shark's general movements. A dart tag is inserted right under the shark's dorsal fin.
5) Determining sex:  Identification of the shark's sex is a vital aspect of data collection. Male sharks possess external reproductive organs called claspers, and their presence makes distinguishing between male and female sharks relatively straightforward. The state of the claspers can also indicate whether the shark is sexually mature.
6) Safely releasing a shark:  After the quick workup, the shark is released back into the ocean. The circle hook is removed from the shark's jaws before release. The ANGARI research vessel has a platform off its stern where the whole process takes place, and since the shark never left the water, its release back into the ocean is quick and swift.
During this expedition with FIU and ANGARI, the SCF staff and board had the privilege of witnessing and participating in the whole workup and tagging process. One large, male nurse shark was caught during the expedition that had a previous tag on it – a first for ANGARI and FIU! The FIU researchers recorded the contact and ID number from the previous tag, allowing for data comparison.
In addition to the steps outlined above, other critical data are often recorded during a shark research expedition. These include, but are not limited to: catch location, specific times of catch and release and the duration of the workup process. There are also various types of tags that researchers use to obtain different data, each with a specific use for enhancing our understanding of shark ecology, movement and behavior patterns.
Shark tagging is instrumental in helping us understand the movements of these apex predators and their ecosystems. By tracking shark movements, researchers can identify important shark areas, like nursery areas, mating grounds or other areas where sharks tend to aggregate or feed. These data inform policy decisions, such as where to establish or expand a Marine Protected Area. Additionally, tissue samples obtained while shark tagging enable researchers to monitor the health of the shark, which serves as an indicator for the health of its environment.
This shark tagging expedition proved to be a resounding success, offering SCF staff and board a firsthand experience which fostering a deeper appreciation of shark tagging and its role in collecting valuable data that can be used to inform conservation policies.
LEAD SCIENTISTS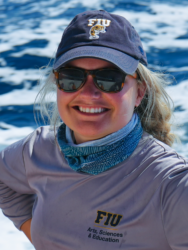 Erin Spencer is a science writer, marine ecologist and Ph.D. candidate in Biology at FIU. Her research uses biologgers, or animal-mounted data collecting devices, to record acceleration, speed, depth, etc. that helps us understand great hammerhead shark energy needs and movement patterns. Prior to working in Florida, she received a M.S. in Ecology from the UNC – Chapel Hill where she studied red snapper fishery management and seafood mislabeling, and a B.S. in Ecology from the College of William and Mary where she studied invasive lionfish management. She is a three-time National Geographic Explorer grantee and has given talks to groups of all ages through National Geographic, the World Bank, TEDx, and schools. Erin is an avid writer and published a children's book called The World of Coral Reefs. She is also passionate about science education and serves as a lead scientist for ANGARI's Coastal Ocean Explorers: Sharks program aboard R/V ANGARI.
_________________________________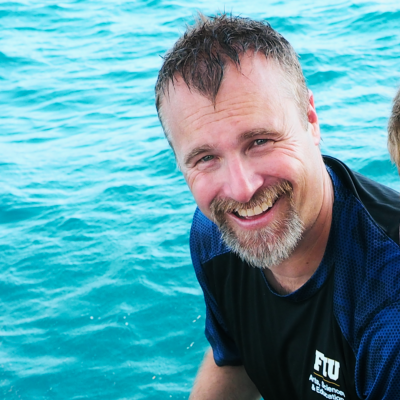 Dr. Mike Heithaus is a marine ecologist, specializing in predator-prey interactions and the ecological importance of sharks and other large marine species like dolphins and sea turtles. His research includes investigating the ecological consequences of overfishing large predators, predator-prey interactions, and the ecology of seagrass ecosystems, coral reefs, and deep-sea communities of the Gulf of Mexico. He has published more than 160 scientific papers and book chapters, co-edited four books on sharks, and attracted over $8 million in research support. Mike also serves as Dean of the College of Arts, Sciences & Education (CASE) and Professor in the Department of Biological Sciences at Florida International University (FIU).