Students and teachers from Jupiter Environmental Research and Field Studies Academy joined Florida International University scientists onboard R/V ANGARI for a productive day of shark research. 
Sara Casareto
Gina Clementi
Sophia Hemsi
Erin Spencer
Maurits Van Zinnicq Bergmann
All sharks were fished for, caught, studied and released for research purposes under Florida permits held by Florida International University scientists.
R/V ANGARI and her crew welcomed aboard scientists from Florida International University's (FIU) College of Arts, Sciences and Education and students and teachers from the Jupiter Environmental Research and Field Studies Academy (JERFSA) at Jupiter Community High School for our Coastal Ocean Explorers: Sharks program. Over the course of the day, JERFSA students and teachers worked side-by-side with the FIU scientists to participate in all steps of the field methods, from baiting circle hooks, to assembling, deploying and recovering specialized shark research fishing gear known as drumlines, and collecting and recording data.
The drumline deployments proved very successful, with three large nurse sharks, two tiger sharks and one barracuda caught and released during the expedition! This provided plenty of opportunities for the participants to learn firsthand how to identify the sex of sharks, collect length measurements, sample tissue from the dorsal fin and attach uniquely numbered identification tags, which can provide valuable insights if the shark is ever caught again. The participants were even able to feel the sandpaper-like texture produced by dermal denticles on the nurse shark's skin prior to its release.
This expedition was sponsored by Jupiter Environmental Research and Field Studies Academy and supported by the generous donors of ANGARI Foundation.
CHIEF SCIENTIST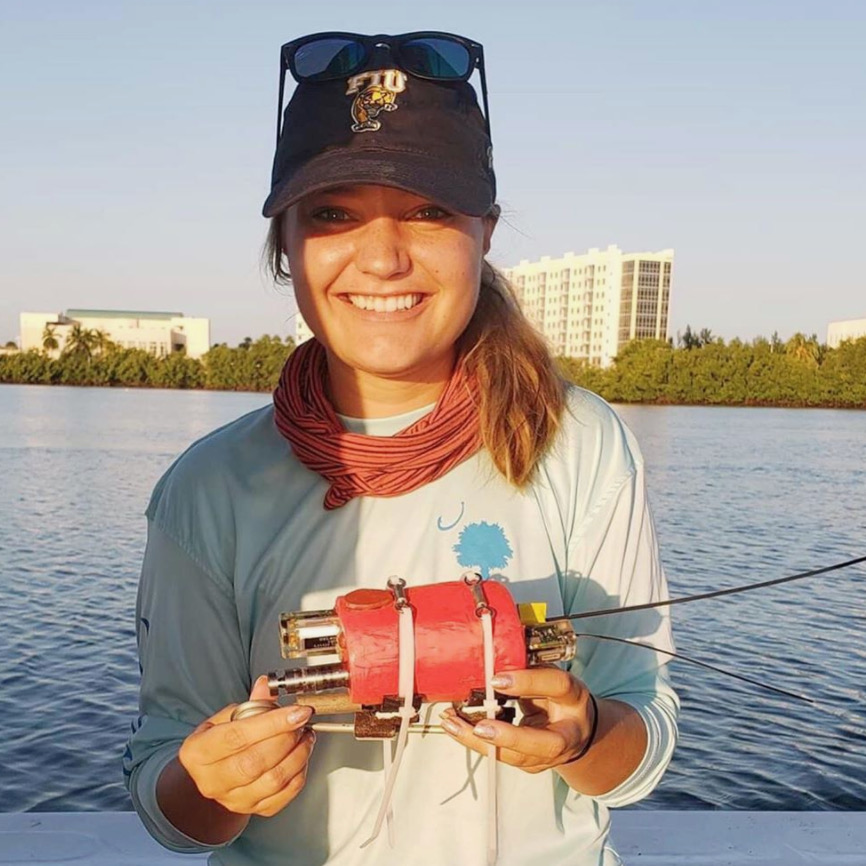 Erin Spencer is a science writer, marine ecologist and Ph.D. candidate in Biology at FIU. Her research uses biologgers, or animal-mounted data collecting devices, to record acceleration, speed, depth, etc. that helps us understand great hammerhead shark energy needs and movement patterns. Prior to working in Florida, she received a M.S. in Ecology from the UNC – Chapel Hill where she studied red snapper fishery management and seafood mislabeling, and a B.S. in Ecology from the College of William and Mary where she studied invasive lionfish management. She is a three-time National Geographic Explorer grantee and has given talks to groups of all ages through National Geographic, the World Bank, TEDx, and schools. Erin is an avid writer and published a children's book called The World of Coral Reefs. She is also passionate about science education and serves as a lead scientist for ANGARI's Coastal Ocean Explorers: Sharks program aboard R/V ANGARI.