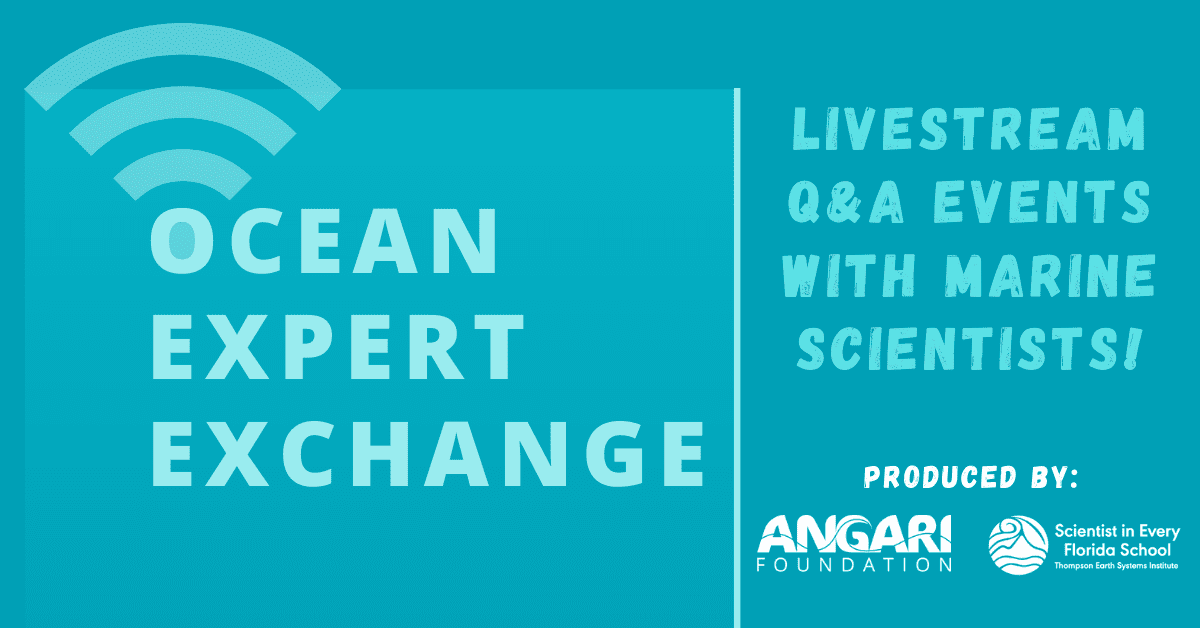 Ocean Expert Exchange: Live Engagements with Marine Scientists in Support of Distance Learning and Ocean Literacy
In response to the COVID-19 pandemic and the growing need for flexible but engaging remote learning opportunities, ANGARI Foundation and the University of Florida Thompson Earth Systems Institute's Scientist in Every Florida School (SEFS) program have joined forces to bring a series of live interactive webinar events with marine scientists to students, teachers, and the public. The livestream events are available via Zoom and Facebook Live and welcome participants of all ages. During each Ocean Expert Exchange (OEE) segment, a featured marine scientist presents briefly on their area of expertise followed by a question and answer session with viewers. Viewers are able to submit their questions via platform chat boxes. Following the live event, recordings of the segment will be made available via YouTube. 
The OEE events will occur every 2 weeks from April through June (and potentially into the future). All of the featured scientists have participated in research expeditions with ANGARI Foundation aboard the research vessel ANGARI, making additional information on their scientific research and fieldwork available through R/V ANGARI's expedition pages. The full lineup of OEE is available below. Please click any banner below to learn more and/or register for the live session (advanced registration is required for participating in OEE live segments via Zoom).
Upcoming Events
June 15th at 3PM EST

Past Events on YouTube
For educators looking to integrate the OEE marine science segments into their lessons, supporting educational resources, including short videos, readings, and web-based interactivities are also available for each topic.
---
About Scientist in Every Florida School
Scientist in Every Florida School (SEFS) is a free program housed within the Thompson Earth Systems Institute at the University of Florida. The SEFS program connects and builds long-term partnerships between teachers and scientists in order to bring current scientific research and big data into classrooms in Florida and beyond. For more information visit the SEFS program webpage.
About ANGARI Foundation
ANGARI Foundation is a 501(c)(3) private operating foundation established in 2016 and headquartered in West Palm Beach, FL. The Foundation is dedicated to creating a global community that is interested, knowledgeable and invested in marine and environmental sciences by directly supporting research initiatives that foster a greater trust and dialogue between scientists and the public. ANGARI Foundation uses innovative technology, film and other media to raise awareness and strengthen science education. Many of the Foundation's primary initiatives involve R/V ANGARI, a 65-foot vessel that serves as an exceptional research and education platform. For more information visit www.angari.org.