Nonprofit Supports Marine Science and Unites Scientists with Community
Special to Seven Seas Media, By: Rachel Plunkett and Angela Rosenberg.
The Research Vessel ANGARI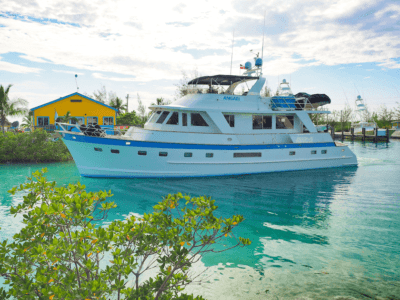 For many marine scientists, at-sea fieldwork is an important part of their ocean research. Some researchers claim they spend as much as 70% of their job aboard research vessels to collect samples and run field experiments. While working on the water may sound glamorous too many, the reality is that working from a science research vessel usually consists of long days of hard work, and is most often extremely expensive.
ANGARI Foundation, a nonprofit organization headquartered in West Palm Beach, Florida, offers a unique opportunity for scientists and filmmakers who require working on the water. The luxury science ocean research vessel ANGARI (home port West Palm Beach), captained by the foundation's co-founder and president, Angela Rosenberg, is offered for charter at a minimal cost. Rosenberg explains that while she was completing her master's degree in marine geology and geophysics at the University of Miami's Rosenstiel School of Marine and Atmospheric Science, she realized how expensive it was to conduct fieldwork and observed many scientists struggling to obtain enough funding to support their research.
"Offering a vessel at a low rate allows scientists to stretch their fieldwork budget and reserve funds for other essential research needs," said Rosenberg. She continues, "We feel scientists deserve a first-class vessel that is very capable and versatile enough to meet the needs of many researchers. Why not have the best of both worlds?"
In June 2016 ANGARI Foundation set out to create a multipurpose research platform and acquired a 2001 65-foot Grand Alaskan trawler. The vessel was a pleasure yacht, used by previous owners to travel along the U.S. East Coast from Canada to the Caribbean as well as several trips around The Great Loop. The transformation from a well-traveled pleasure yacht to a functional and luxurious research vessel took just over 3 months. Upgrades included…
More Topics in this Article
– Florida Roots with an International Reach
– Harnessing the Power of Media
– Educating and Inspiring the Next Generation
– Youth Science-At-Sea
– The Future Looks Bright
– About the Authors