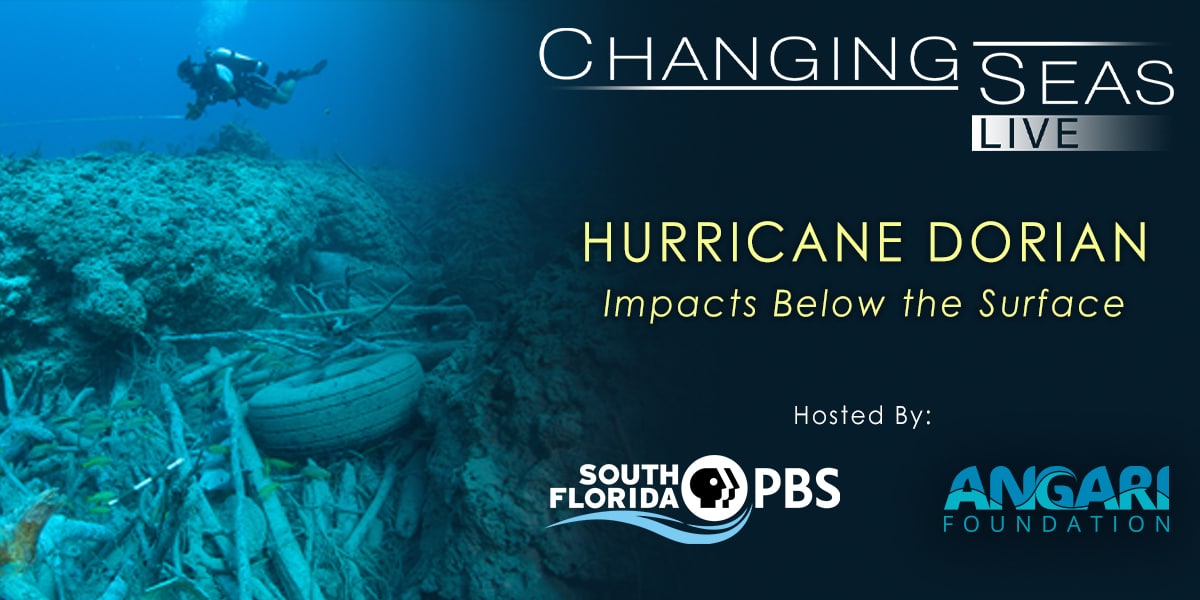 Join us for a live discussion about Hurricane Dorian's impacts on the marine environment in The Bahamas
On September 30 from 6:00 pm – 8:00 pm EDT, ANGARI Foundation and South Florida PBS will host a live panel discussion entitled "Hurricane Dorian: Impacts Below the Surface."
In September 2019, powerful Hurricane Dorian made landfall over Abaco and Grand Bahama islands as a Category 5 storm. It is estimated that several hundred people lost their lives in the tragic disaster, and the hurricane's sustained 180 miles per hour winds and associated storm surge caused catastrophic damage on land. The storm also affected nearshore habitats like coral reefs and seagrass beds and considerable efforts are being made to better understand these effects.
Shortly after the storm, R/V ANGARI Expedition 31 circumnavigated Grand Bahama Island and Abaco with researchers from the Perry Institute for Marine Science, The Nature Conservancy, Middlebury College and The Walt Disney Company performing post-hurricane reef surveys at 29 sites. All of the sites had been previously surveyed during expeditions onboard R/V ANGARI in 2018 and 2019, which provided a unique opportunity for scientists to directly compare reef ecosystem health before and after the hurricane.
During the September 30th event, we will hear about the findings of these reef surveys and other work on marine mammals, seagrass habitats, oysters and more in the region as we chat live with our panel of experts:
Cha Boyce, Executive Director at Friends of the Environment
Diane Claridge, PhD, Executive Director of Bahamas Marine Mammal Research Organisation
Craig Dahlgren, PhD, Executive Director of Perry Institute for Marine Science
Charlotte Dunn, PhD, President of Bahamas Marine Mammal Research Organisation
Krista Sherman, PhD, Senior Scientist at Perry Institute for Marine Science
This event is hosted by South Florida PBS and ANGARI Foundation. Alexa Elliott, Changing Seas Series Producer for South Florida PBS, will serve as moderator for the discussion. The livestream event will include a Q&A session with viewers, and audience participation is encouraged!