After Category 5 Hurricane Dorian barreled through the Bahamas in September 2019, researchers from Perry Institute for Marine Science and partner organizations surveyed reef sites in the affected areas of Grand Bahama Island and Abaco.
Shelby Allen
Frederick Arnett
Craig Dahlgren
Will Greene
Krista Sherman
Sandra Voegeli
Researchers from the Perry Institute for Marine Science (PIMS), The Nature Conservancy, Middlebury College and The Walt Disney Company surveyed reefs around Grand Bahama Island and Abaco to assess the environmental effects of Hurricane Dorian.
The Category 5 storm that caused major damage in many parts of the Abacos and Grand Bahama Island on land had similar effects underwater in some areas while other reefs showed no signs of a catastrophic storm.
During a two-week expedition onboard R/V ANGARI that circumnavigated Grand Bahama Island and Abaco, 29 sites were surveyed under Atlantic and Gulf Rapid Reef Assessment (AGRRA) methods. All of the sites had been previously surveyed during expeditions onboard R/V ANGARI in 2018 and 2019, which provided a unique opportunity for scientists to directly compare reef ecosystem health before and after the hurricane. Of the 29 reef sites surveyed, many received a direct hit from the Category 5 storm while others experienced lesser Category 3 and 4 winds and storm surge. The state of the coral reefs in the region was variable – some reefs showed devastation and debris while others looked completely untouched.
This expedition was funded by the Devereux Ocean Foundation, Disney Conservation Fund and Atlantis Blue Project Foundation.
Krista Sherman



CHIEF SCIENTIST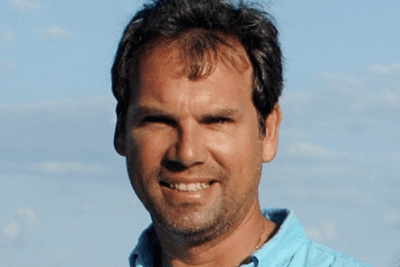 Dr. Craig Dahlgren, Director of Perry Institute for Marine Science, is a marine ecologist who studies a wide range of topics related to tropical marine ecosystems. His work includes studies of mangrove and coral reef ecosystems, efficacy of marine protected areas, and population dynamics of fishery species ranging from traditional Caribbean fishery species like Nassau grouper and Caribbean spiny lobster to emerging fisheries like sea cucumbers, parrotfish, sponges, and gorgonians. At present, his work focuses on improving management of and expanding the network of marine protected areas, restoring coral reef and mangrove ecosystems, and improving fishery management for traditional and emerging fishery species in The Bahamas and elsewhere.