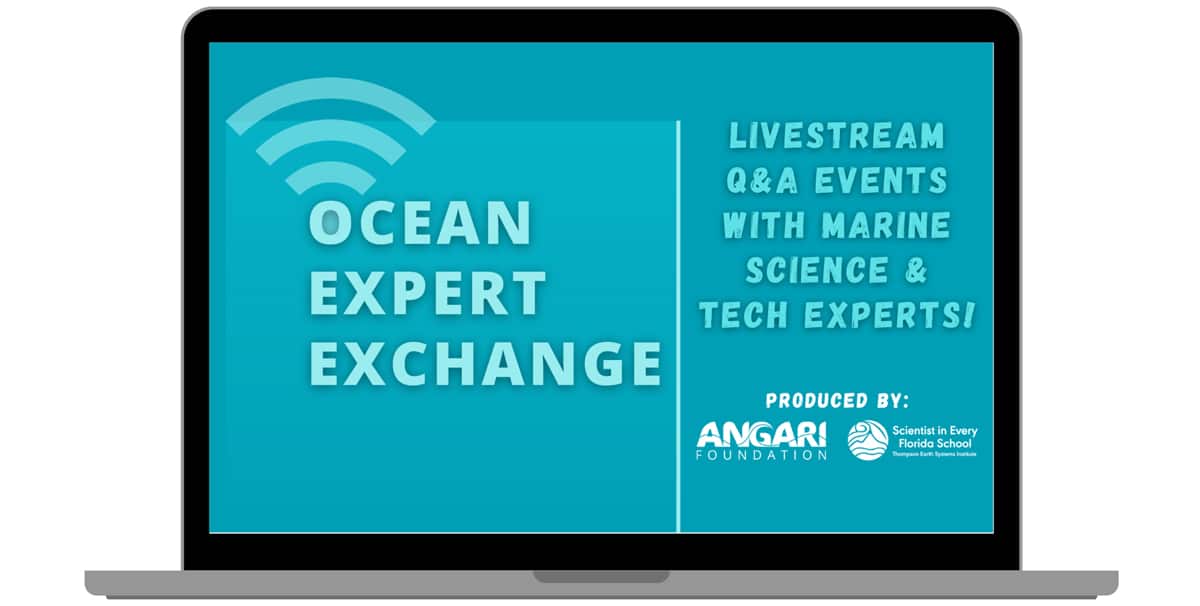 ANGARI Foundation Kicks Off Fall Ocean Expert Exchange Events
Launched in April 2020, Ocean Expert Exchange (OEE) is a collaborative program between ANGARI Foundation and the University of Florida Thompson Earth Systems Institute's Scientist in Every Florida School (SEFS) initiative. Open to audiences of all ages, OEE features free live interactive webinar events with experts in marine science and technology. While the program was developed in response to the distance learning needs of teachers and students during the COVID-19 pandemic, spring OEE webinars reached viewers from 21 states and 26 countries ranging in age from pre-K to gray.
Building upon the popularity of the spring OEE events,  program partners have assembled an exciting lineup for fall 2020. Highlighted topics include the development and application of cutting-edge underwater camera technologies to improve coral reef monitoring and advance ocean research, education and conservation, and intriguing ecological interactions in sea turtle communities and mangrove ecosystems. As with the spring OEE segments, many of the fall featured experts have participated in research expeditions with ANGARI Foundation aboard the research vessel ANGARI, making additional information on their fieldwork available via R/V ANGARI's expedition pages.
Fall OEE livestreams can be accessed via Zoom (registration required) and YouTube Live and will include a brief presentation on the featured guests area of expertise followed by a moderated question and answer session with participants. For those unable to make the live events, recordings will be made available via YouTube. All spring OEE event recordings, speakers details and supporting materials can also be accessed via our OEE program page. To register or read more about upcoming OEE events, including speaker bios and affiliated R/V ANGARI expeditions, click the banner images below. 
Upcoming Livestream Events


---
About Scientist in Every Florida School
Scientist in Every Florida School (SEFS) is a free program housed within the Thompson Earth Systems Institute at the University of Florida. The SEFS program connects and builds long-term partnerships between teachers and scientists in order to bring current scientific research and big data into classrooms in Florida and beyond. For more information visit the SEFS program webpage.
About ANGARI Foundation
ANGARI Foundation is a 501(c)(3) private operating foundation established in 2016 and headquartered in West Palm Beach, FL. The Foundation is dedicated to creating a global community that is interested, knowledgeable and invested in marine and environmental sciences by directly supporting research initiatives that foster a greater trust and dialogue between scientists and the public. ANGARI Foundation uses innovative technology, film and other media to raise awareness and strengthen science education. Many of the Foundation's primary initiatives involve R/V ANGARI, a 65-foot vessel that serves as an exceptional research and education platform. For more information visit www.angari.org.