Pioneering Underwater Camera Systems
Casey Sapp, CEO, Producer & DP
VRTUL
Casey Sapp shares his experience developing cutting-edge underwater cameras, including 360, VR and 3D systems, in support of ocean science, education and conservation.

Ocean Expert Exchange is a live educational webinar series featuring experts in marine science and technology, many of whom have participated in expeditions onboard R/V ANGARI. The 30-minute live events welcome audiences of all ages and include a presentation on the speaker's area of expertise followed by Q&A with participants. The series is co-hosted by ANGARI Foundation and the University of Florida Thompson Earth Systems Institute's Scientist in Every Florida School program.
PRESENTER BIO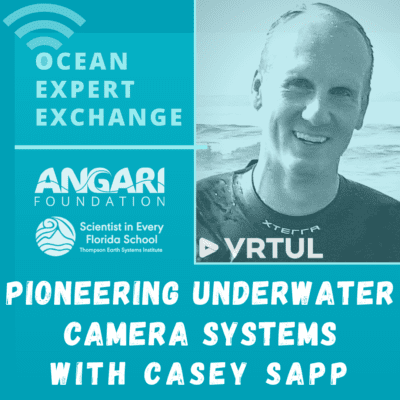 Casey Sapp is CEO of VRTUL (Virtual Reality Technology Underwater Limited) focused on technology development and production services for underwater cinema. VRTUL's clients include the BBC, Discovery, National Geographic, Good Morning America, Monterey Bay Aquarium Research Institute and many others at the cross section of cinema and science. Some of Casey's inventions include the first 360 3D underwater camera system, the first underwater 360 live broadcast (GMA), the first ROV VR piloting system (MBARI), the first 360 cinematic camera on a submarine, and the highest resolution underwater cinematic camera system in the world (MSG Sphere). In the last year VRTUL has also been awarded 3 military contracts to develop Augmented Reality, Virtual Reality, and underwater teleoperations solutions for Navy and Air Force squadrons.