Perry Institute for Marine Science
Dr. Krista Sherman shares her research experiences aimed at helping policymakers understand how to better manage and conserve important fishery resources in the Bahamas.
Ocean Expert Exchange is a live educational webinar series featuring experts in marine science and technology, many of whom have participated in expeditions onboard R/V ANGARI. The 30-minute live events welcome audiences of all ages and include a presentation on the speaker's area of expertise followed by Q&A with participants. The series is co-hosted by ANGARI Foundation and the University of Florida Thompson Earth Systems Institute's Scientist in Every Florida School program.
PRESENTER BIO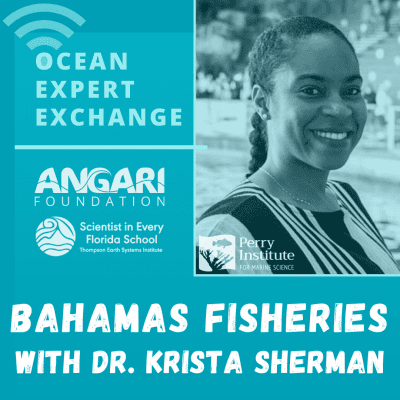 Dr. Krista Sherman is a marine scientist with over a decade of research and conservation experience. She is the first Bahamian female with a PhD in marine science, having completed her PhD in Biological Sciences at the University of Exeter. Her PhD work assessed the status, population structure and dynamics of Nassau grouper spawning aggregations and was critical to the development of the first Nassau Grouper Conservation Management Plan for The Bahamas. Before earning her PhD, Krista worked as a Project Coordinator & Science Officer at the Bahamas National Trust; Research Associate & Advisor at Cape Eleuthera Institute and Island School; and Aquarist at Atlantis. She has extensive marine animal husbandry and research experience, including assessing impacts of invasive lionfish on native species and ecosystems, monitoring coral reef, mangrove and seagrass habitat health, coral restoration, and Rapid Ecological Assessments for proposed Marine Protected Areas. Dr. Sherman also holds an MRes in Ocean Science from the University of Southampton and BSc in Marine Science from Jacksonville University.