Reef Degradation & Restoration
Roxane Boonstra, Dive & Volunteer Coordinator
Coral Restoration Foundation
Roxane Boonstra discusses the plight of coral reefs and describes how the world's largest reef restoration organization is using coral nurseries and gardening techniques to revitalize the Florida Reef Tract.
Ocean Expert Exchange is a live educational webinar series featuring experts in marine science and technology, many of whom have participated in expeditions onboard R/V ANGARI. The 30-minute live events welcome audiences of all ages and include a presentation on the speaker's area of expertise followed by Q&A with participants. The series is co-hosted by ANGARI Foundation and the University of Florida Thompson Earth Systems Institute's Scientist in Every Florida School program.
PRESENTER BIO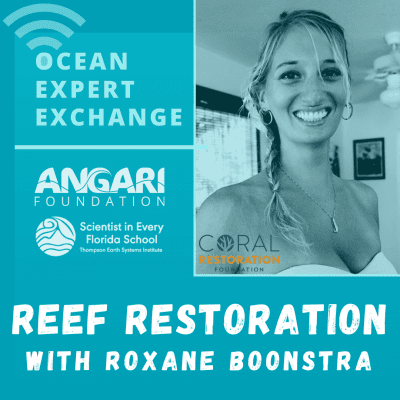 Roxane Boonstra completed her Masters degree from the University of Miami's marine program, and then spent six years in the Cayman Islands where she worked as a Jill-of-all-trades in the SCUBA diving industry, amassing over 2,000 dives as an underwater videographer, SCUBA instructor and divemaster. On the surface, these were just jobs; under the surface is where Roxane feels most at home. During her time on the small Sister Islands of Little Cayman and Cayman Brac, Roxane spent her free time hunting lionfish, educating tourists on marine science, and participating in Nassau grouper research. Between these activities, she never left her love for coral behind, co-founding a Coral Nursery on the small island of Cayman Brac. Roxane now shares her passion for reef restoration by managing the Recreational Dive Program for the Coral Restoration Foundation™ (CRF). Headquartered in Key Largo, FL, CRF is the largest coral restoration organization in the world. They have been restoring FL reefs for 12 years and have planted more than 100,000 critically endangered staghorn and elkhorn corals back onto the Florida Reef Tract.