Angela Rosenberg, Captain & President
ANGARI Foundation
Angela Rosenberg, captain of the 65-foot research vessel R/V ANGARI, speaks about her experience coordinating expeditions to remote locations and supporting diverse marine science research efforts at sea. 
Educators- would you like to be kept up to date on ANGARI ocean science education content & programs like this? If so, please complete our Educator Registration form!
PRESENTER BIO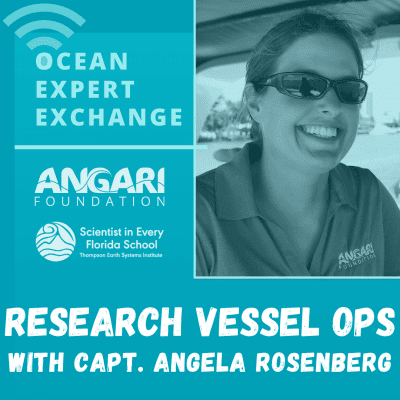 Angela Rosenberg combined her love for the ocean, marine science and boating to create ANGARI Foundation. She is the Foundation President and Captain of their 65-ft research vessel ANGARI that was repurposed for research under her guidance. Onboard research has included diverse areas of study, like sharks, turtles, coral reefs, fish, water chemistry, ocean currents and plankton. Angela has extensive knowledge and experience in boating and holds a U.S.C.G. Merchant Mariner 100 ton license and STCW and Marine Security credentials as well as several SCUBA certifications. Prior to ANGARI Foundation, Angela developed and implemented international scientific expedition, education and outreach programs for a Miami-based nonprofit that works with the yachting industry. Prior to this, Angela worked as a marine scientist conducting field and laboratory research related to shallow and deep-water corals, aquaculture, geochemistry, paleoceanography, climate change, ocean acidification, trace metals and seafloor mapping. Angela earned a M.B.A. from the University of South Carolina and a M.S. in Marine Geology and Geophysics and a B.S. in Marine Science and Biology from the University of Miami.
Ocean Expert Exchange is a live educational webinar series featuring experts in marine science and technology, many of whom have participated in expeditions onboard R/V ANGARI. The 30-minute live events welcome audiences of all ages and include a presentation on the speaker's area of expertise followed by Q&A with participants. The series is co-hosted by ANGARI Foundation and the University of Florida Thompson Earth Systems Institute's Scientist in Every Florida School program.