Dr. Stephen Kajiura, Professor
Florida Atlantic University
Dr. Stephen Kajiura speaks about his research on the migration of blacktip sharks along the U.S. eastern seaboard, and his experience studying these animals from both the sea and the sky.
Educators- would you like to be kept up to date on ANGARI ocean science education content & programs like this? If so, please complete our Educator Registration form!
PRESENTER BIO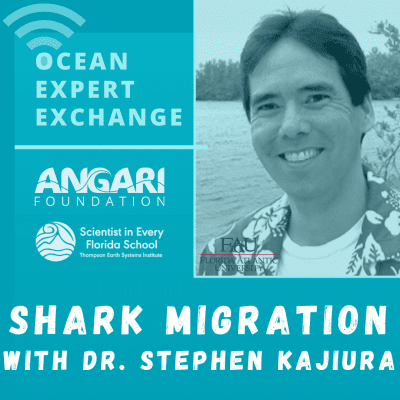 Dr. Stephen Kajiura is a Professor in the Department of Biological Sciences at Florida Atlantic University. His area of expertise is the sensory biology of sharks and rays with an emphasis on the electrosensory system. In addition to his sensory physiology research, Dr. Kajiura studies the massive seasonal aggregation of blacktip sharks in southeast Florida. He incorporates aerial surveys with tagging and acoustic telemetry to document the migration of these sharks along the US eastern seaboard. Dr. Kajiura has conducted research for various agencies including the National Science Foundation, the Department of Defense, and the National Marine Fisheries Service and maintains a strong public outreach service, primarily through television documentary appearances. Dr. Kajiura has also served as an elected member of the American Elasmobranch Society Board of Directors.
Ocean Expert Exchange is a live educational webinar series featuring experts in marine science and technology, many of whom have participated in expeditions onboard R/V ANGARI. The 30-minute live events welcome audiences of all ages and include a presentation on the speaker's area of expertise followed by Q&A with participants. The series is co-hosted by ANGARI Foundation and the University of Florida Thompson Earth Systems Institute's Scientist in Every Florida School program.