Globally Abundant to Critically Endangered: The Conservation Story of the Oceanic Whitetip Shark
Florida International University

Candace Fields shares how her work plays a part in oceanic whitetip shark conservation.
Select Supplemental Content:
Educators- would you like to be kept up to date on ANGARI ocean science education content & programs like this? If so, please complete our Educator Registration form!
PRESENTER BIO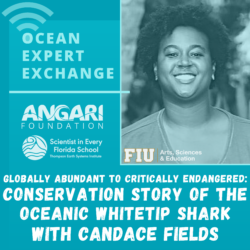 Originally from The Bahamas, Candace Fields is a Ph.D. student at Florida International University. After earning her undergraduate degree in Neuroscience from Lafayette College in Pennsylvania, she spent two years at the Cape Eleuthera Institute in The Bahamas as a key member on the pelagic research team. Candace's current research focuses on the population dynamics and geographic population structure of large predators, with a particular focus on oceanic whitetip sharks. More specifically she is using a combination of genetics and tracking to understand more about this critically endangered species with the hopes of aiding in the recovery plan. Candace is passionate about shark conservation and being a Bahamian advocate for the protection and importance of sharks and rays in The Bahamas.
Ocean Expert Exchange is a live educational webinar series featuring experts in marine science and technology, many of whom have participated in expeditions onboard R/V ANGARI. The 30-minute live events welcome audiences of all ages and include a presentation on the speaker's area of expertise followed by Q&A with participants. The series is co-hosted by ANGARI Foundation and the University of Florida Thompson Earth Systems Institute's Scientist in Every Florida School program.