On R/V ANGARI's milestone 50th expedition, students and mentors from Roosevelt Community Middle School worked side-by-side with Florida International University scientists to study sharks offshore Palm Beach County.
Laura García Barcia
Sara Casareto
Candace Fields
William Sample
Erin Spencer

All sharks were fished for, caught, studied and released for research purposes under Florida permits held by Florida International University scientists.
As part of our Coastal Ocean Explorers: Sharks education program, students and teachers from Roosevelt Community Middle School were invited aboard R/V ANGARI for a day of hands-on shark research. The participating students worked side-by-side with scientists from Florida International University's College of Arts, Sciences and Education throughout the day, which included fishing for sharks using specialized research equipment known as drumlines. This fishing gear is designed to allow a shark to swim freely in its environment after being hooked to minimize stress on the animal before its quick workup and release.
From baiting the hook, to assembling, deploying and recovering drumlines, students and mentors were given the experience of being scientists at-sea for the day. The participants learned about the important role sharks play in marine ecosystems and received training on how to collect valuable data for shark research, including how to properly measure a shark's length, collect tissue samples and attach a uniquely-numbered ID tag. Although no sharks were caught during the day, R/V ANGARI celebrated her 50th expedition, a hard-earned milestone the ANGARI team is proud to have accomplished and shared with this group of students, educators, scientists and supporters.
This expedition was made possible with funding from Marine Industries Association of Palm Beach County.
CHIEF SCIENTIST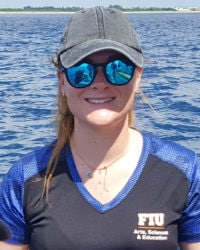 Laura García Barcia is a Ph.D. candidate in the Predator Ecology & Conservation Lab at FIU. She is an environmental biologist particularly interested in marine wildlife conservation. Her research focuses on two main topics: the shark fin trade and the impacts of heavy metal pollution on coastal shark species. Through the use of genetics and toxicology, she explores fascinating questions, including the identification of where shark fins sold in Hong Kong come from, whether shark fin soup is a safe product to consume for humans, or at what life stage sharks are more vulnerable to pollutants found in our waters. The ultimate goal of Laura's research is to inform conservation measures that help improve the status of shark populations. Laura is passionate about public education, and the ultimate goal of her research is to inform conservation measures that help improve the status of shark populations.