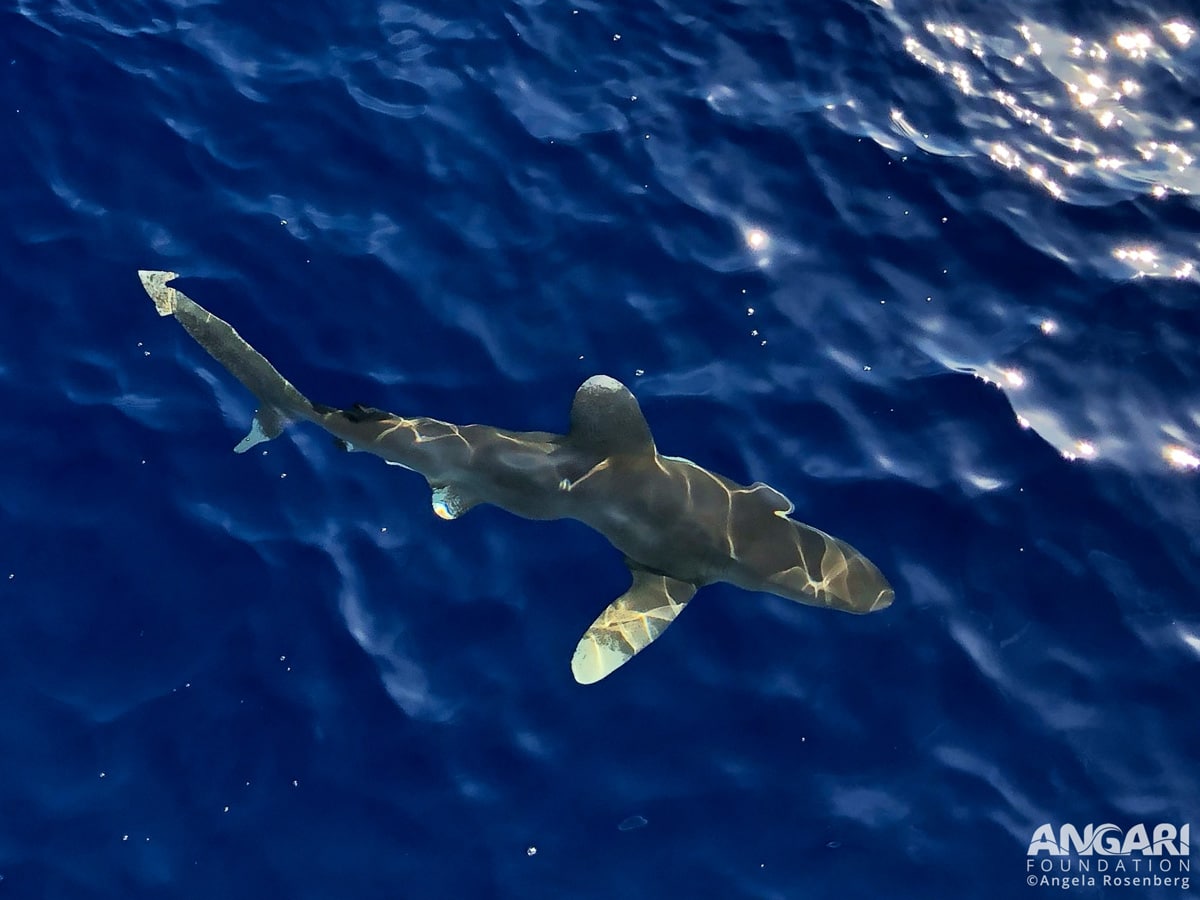 Shark biologists team up with aerospace engineer to discover behaviors of oceanic whitetips
Shark biologists, an aerospace engineer and statisticians studied oceanic whitetip sharks to learn more about their energy use while swimming. What they discovered was surprising.
By JoAnn Adkins
Original article published January 11, 2018 in FIU News
📸: ANGARI
Oceanic whitetip sharks move with extreme efficiency, exploiting physics to maximize their energy surplus for both hunting and downtime.
A team of scientists that included shark biologists, an aerospace engineer and statisticians spent several years developing precise calculations based on the oceanic whitetip's average size, swimming location, water temperatures, location of prey in the water and daily activities. The team was led by FIU marine scientist Yannis Papastamatiou, who wanted to learn more about the elusive creatures.
Oceanic whitetips reside almost exclusively in open water, making them more difficult to study than coastal sharks. Papastamatiou likens their habitat to the desert, a vast ecosystem where food is sparse. When any animal consumes prey, it gets energy. When it's searching for prey, it's losing energy.
Papastamatiou wanted to know what behavior could maximize an animal's energy surplus and if oceanic whitetips behaved as such. He called on Gil Iosilevskii, an aerospace engineer from Technion – Israel Institute of Technology, for some basic calculations. Papastamatiou quickly realized basic wouldn't cut it. Iosilevskii turned to calculations he uses to determine optimal flight performance for planes.
Peer-Reviewed Publication: Papastamatiou, Y.P., Iosilevskii, G., Leos-Barajas, V. et al. Optimal swimming strategies and behavioral plasticity of oceanic whitetip sharks. Sci Rep 8, 551 (2018). DOI: 10.1038/s41598-017-18608-z
---
Related Articles or Expeditions
ANGARI Expedition 22: Blacktip Shark Migration
During this expedition, R/V ANGARI hosted shark researchers from Florida International University (FIU) and Florida Atlantic University (FAU) for a look at the blacktip shark migration along the cost of Palm Beach County, Florida.
See More [ANGARI Expeditions]