UPDATE 9-3-2020: Scientists provide needed attention to Biscayne Bay after fish kill and algal blooms
Scientific research is ongoing right now for a long-term problem in Biscayne Bay, Miami.  A fish kill started weeks ago and now algal blooms are forming.  Researchers are looking for the reasons and proposing short-term and long-term solutions.
---
UPDATE 9-3-2020
REPLAY: 'Saving Biscayne Bay' special plus Q&A with Louis Aguirre and FIU experts

WPLG ABC10 [1:21:34]
ORIGINAL CONTENT BELOW 9-1-2020                                                                  
Florida International University (FIU) deployed an autonomous surface vehicle equipped with sensors to measure temperature, dissolved oxygen, turbidity and chlorophyll (photo above).
See below for the news and watch a media event on WPLG-ABC10 at 8 p.m. and FIU Facebook Live, starting at 8:30 p.m. Wednesday, September 2, 2020.
Aerators may be brought in to help dying fish in Biscayne Bay's low oxygen hot spots
Originally published August 14, 2020 by the Miami Herald
By Adriana Brasileiro, Alex Harris 
Aerators may be deployed in Biscayne Bay to help improve oxygen levels in hot spots where thousands of fish have died in recent days as a result of a deadly combination of high water temperatures and increased nutrients.
"It's unfortunate to think about Biscayne Bay as an aquarium that needs an aeration system but that's exactly what we are considering now," said Todd Crowl, a professor and director of Florida International University's Institute of Environment. "I've never seen anything like this in a coastal area."
A fish kill that was first reported by swimmers off Morningside Park on Monday spread to other areas of the Bay this week as dissolved oxygen levels dropped dramatically. Large quantities of dead fish were reported around North Bay Village and in southern areas like Virginia Key. Images of dozens of rays that appeared to be gasping for air near Pelican Harbor Seabird Station were widely shared on social media Thursday.
Harmful algae blooms didn't contribute to the fish mortality event, said Eric Sutton, executive director at the Fish and Wildlife Conservation Commission. The agency analyzed water samples from the bay but found no evidence of toxins that could have caused the fish kill.
Scientists and wildlife managers are still trying to determine what caused the event, but the unusually high water temperature coupled with the presence of nutrients that washed into the Bay after recent rains probably led oxygen levels to drop precipitously, Crowl said.
While the average temperature of shallow waters in that area of the Bay is 83 degrees, it reached 90 this week, he added. Last night, FIU's Center for Aquatic Chemistry and Environment sent out a research buoy to analyze water conditions just south of North Bay Village. It barely found any oxygen in the water late last night, he added.
Tune in at 8 p.m. to WPLG Local 10 for their prime time special, Saving Biscayne Bay, as FIU researchers and partners explore what led to recent fish kills and algal blooms.
As part of the FIU Facebook Live town hall, WPLG Local 10's Louis Aguirre will take your questions and FIU researchers will provide answers LIVE.
More Press

WFOR-CBS4 [1:52]
Biscayne Bay, Already Suffering From Fish Kill, Now Dealing With Algae Bloom [CBS Miami]
First, thousands of fish turned up dead in Biscayne Bay. Coral bleaching might be next [Miami Herald]
Here's What's Going on With the Ongoing Fish Kill in Biscayne Bay [New Times – Miami]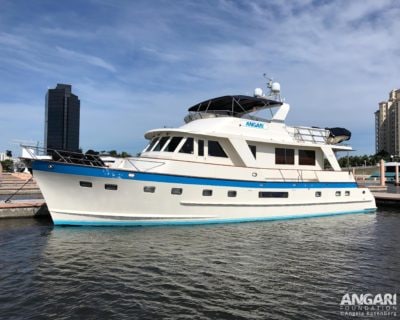 ANGARI Foundation Deep Dive featured articles share significant scientific research and marine science news of today. The Foundation operates the oceanographic research vessel R/V ANGARI for charter out of its home port in downtown West Palm Beach in Palm Beach County, Florida with the goal of advancing our understanding of the ocean environment and educating our community.