Engineering Solutions for Coral Reef Research
Woods Hole Oceanographic Institution
Nate Formel shares how he has used the open-source movement to expand and improve on tools for marine research, including that on ocean acidification in the Florida Keys.
Select Supplemental Content:
Educators- would you like to be kept up to date on ANGARI ocean science education content & programs like this? If so, please complete our Educator Registration form!
PRESENTER BIO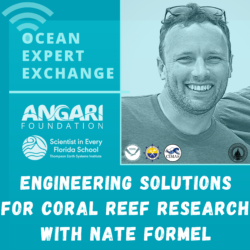 Nate Formel is a marine biologist whose work has focused mainly on the conservation and restoration of coral reef ecosystems in Florida, Hawaii and the Caribbean. He is currently a Research Assistant III at the Woods Hole Oceanographic Institution in the Biology Department's Sensory Ecology and Bioacoustics Lab. Prior to this role, Nate was a Senior Research Associate at the National Oceanic and Atmospheric Administration Atlantic Oceanographic and Meteorological Laboratory's (AOML) Ocean Chemistry and Ecosystems Division and the University of Miami's Cooperative Institute for Marine and Atmospheric Studies (CIMAS). Here, his work focused on identifying resilient coral genotypes, methods to enhance the resilience of corals used for restoration of impacted reefs, and the development of novel, low-cost and open-source sampling equipment to expand the suite of tools used to study coral reef ecosystems. Nate holds an M.S. from the University of Miami and B.S. in Biology from Northeastern University.
Ocean Expert Exchange is a live educational webinar series featuring experts in marine science and technology, many of whom have participated in expeditions onboard R/V ANGARI. The 30-minute live events welcome audiences of all ages and include a presentation on the speaker's area of expertise followed by Q&A with participants. The series is co-hosted by ANGARI Foundation and the University of Florida Thompson Earth Systems Institute's Scientist in Every Florida School program.