Researchers from NOAA's Coral Reef Conservation Program came aboard R/V ANGARI to survey several long-term environmental monitoring sites in the Dry Tortugas National Park, which is part of the NOAA Florida Keys National Marine Sanctuary.
Catalina Aguilar
Elizabeth Dutra
Nate Formel
Graham Kolodzieg
John Morris
NOAA's Coral Reef Conservation Program has initiated the National Coral Reef Monitoring Program (NCRMP) with the goal of providing long-term sustained monitoring of key biological and environmental variables within U.S. coral reef ecosystems. Coral reefs within the protected Dry Tortugas National Park and surrounding waters are regularly surveyed and assessed for calcification, bioerosion, and biodiversity. During this expedition, researchers SCUBA dived on several sites to count species of corals, parrot fish, algae, worms, and other marine life that can affect coral cover and health. Additionally, numerous water samples were collected over the course of the expedition to measure baseline and fluctuating seawater conditions. Data from this trip is used as part of long-term environmental monitoring in order to better understand reef dynamics, determine reef persistence, and identify causative agents of change.
Chief Scientist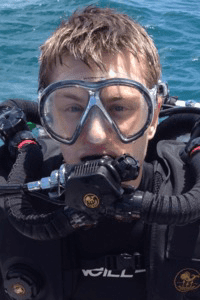 Graham Kolodziej works with Drs. Derek Manzello and Ian Enochs in support of their efforts to study the impacts of ocean acidification on coral reefs. Kolodziej serves as the permit coordinator for ACCRETE and is a technician specializing in the use of micro-computed tomography (micro-CT) to study the fine-scale processes of coral calcification and bioerosion. Graham Kolodziej received his B.S. degree from the Division of Marine Biology and Fisheries of the University of Miami's Rosenstiel School in 2008 and is currently a research associate with the Cooperative Institute of Marine and Atmospheric Science at the University of Miami's Rosenstiel School.