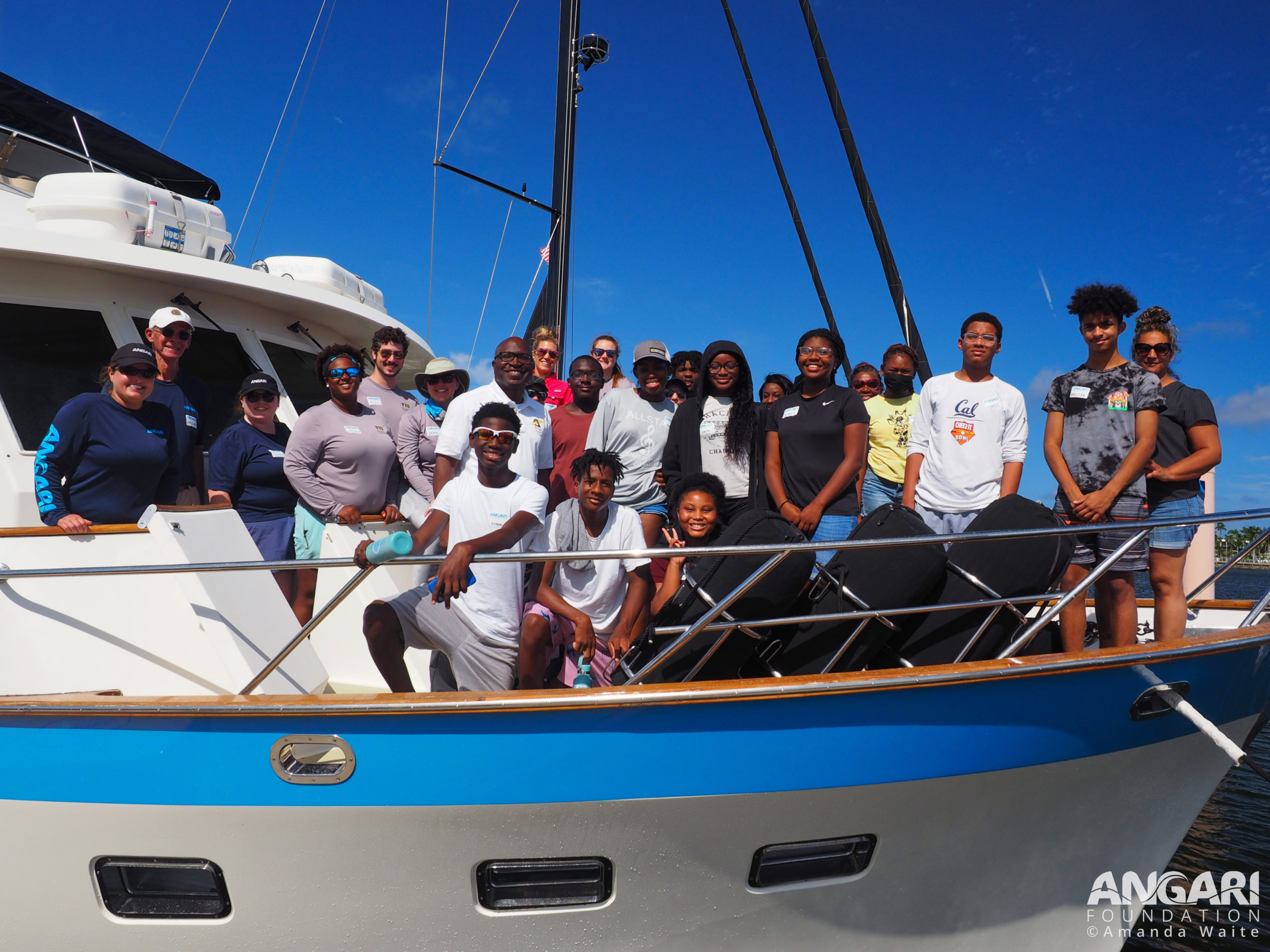 ANGARI Celebrates 50th Expedition during Shark Research with FlU
West Palm Beach, Florida (August 15, 2022) – ANGARI Foundation marked its milestone 50th expedition last month during a Coastal Ocean Explorers (COE): Sharks expedition with Florida International University (FIU) in West Palm Beach. The COE: Sharks program provides local students and educators with the unique opportunity to join marine scientists in a daylong shark research expedition.
On July 29, ANGARI Foundation invited students and teachers from Roosevelt Middle School aboard the R/V ANGARI to learn from and work with scientists from FIU's College of Arts, Sciences & Education, who study sharks as part of several ongoing research projects. Throughout the day, students were able to participate in the entire research process – from baiting circle hooks to assembling, deploying, and retrieving specialized fishing equipment known as drum lines. On these trips, students also help scientists study the sharks by collecting length measurements and dorsal fin tissue samples, and attaching a unique numbered tag to identify the shark if it is ever caught again.
"Partnerships like this not only allow us to study Florida's sharks, they also let us share this important research with the next generation of Floridians," said Erin Spencer, marine ecologist and Ph.D. candidate in FIU's Predator Ecology and Conservation Lab, who is also the lead scientist for the COE: Sharks program. "The goal is to protect sharks. Part of that is building love and respect for sharks, and there's no better way to do that than having people see these animals themselves. ANGARI is an ideal partner because its team prioritizes safety and science."
Since the start of the ANGARI-FIU partnership, ANGARI has hosted 11 educational research expeditions and has caught and released 34 sharks from eight different species. Part of ANGARI's mission is to inspire the next generation of scientists and conservationists through innovative ocean science education opportunities.
"This program provides amazing opportunities for scientists, students, and teachers. We're excited to be working with FIU faculty and grad students – who share the same mission and values of the ANGARI Foundation – to demonstrate the importance of our oceans and share marine science research through hands-on experiences and education," said Angela Rosenberg, president of ANGARI Foundation. "By working together, we have the ability to have an enormous impact on today's youth."
ANGARI's goal is to offer these incredible educational opportunities for free with the help of sponsors. The Foundation's program sponsors include IJL Real Estate, West Marine BlueFuture® Fund at Community Foundation Santa Cruz County, Women's Foundation of Florida – Palm Beach County, Marine Industries Association of Palm Beach County, and Society for Science's STEM Action Grant program.
To continue its mission of providing free marine education, ANGARI Foundation is seeking companies interested in supporting Coastal Ocean Explorers or becoming a Coastal Ocean Explorers founding member. For more information, visit angari.org/contact-us or call (561) 370-7370.
###
---
About ANGARI Foundation
ANGARI Foundation is a 501(c)(3) private operating foundation established in 2016 and headquartered in West Palm Beach, FL. The Foundation is dedicated to creating a global community that is interested, knowledgeable and invested in marine and environmental sciences by directly supporting research initiatives that foster a greater trust and dialogue between scientists and the public. ANGARI Foundation uses innovative technology, film and other media to raise awareness and strengthen science education. Many of the Foundation's primary initiatives involve R/V ANGARI, a 65-foot vessel that serves as an exceptional research and education platform. For more information visit www.angari.org.
About FIU
Florida International University is a top public university that drives real talent and innovation in Miami and globally. Very high research (R1) activity and high social mobility come together at FIU to uplift and accelerate learner success in a global city by focusing in the areas of environment, health, innovation, and justice. Today, FIU has two campuses and multiple centers. FIU serves a diverse student body of more than 58,000, along with over 270,000 Panther alumni. U.S. News & World Report places dozens of FIU programs among the best in the nation, including international business at No. 2. Washington Monthly magazine ranks FIU among the top 20 public universities contributing to the public good.
---
Contact: Chelsea Casagrande
(561) 844-1778, ext. 120
(954) 240-2030 (cell)
chelsea@venueadv.com