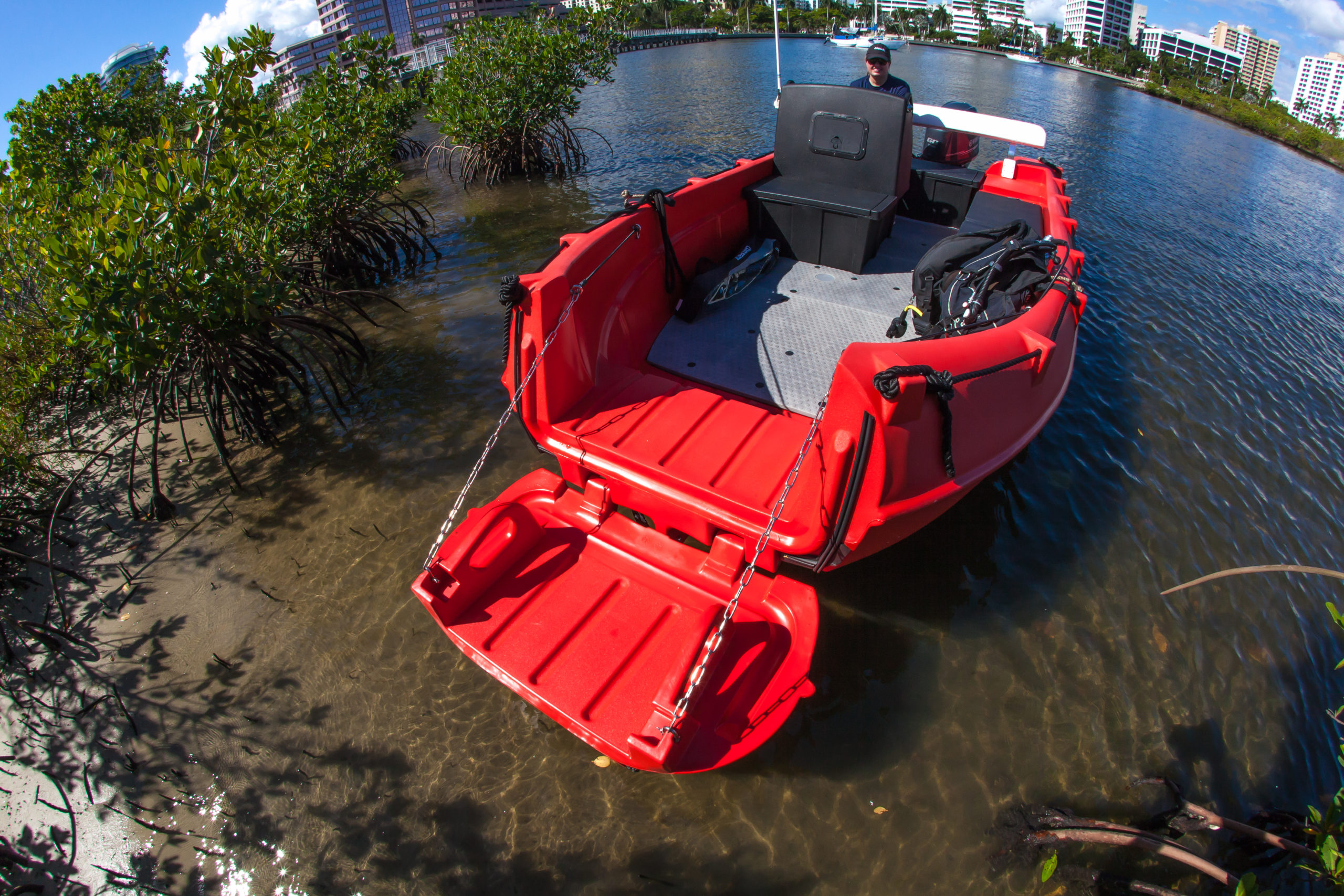 ANGARI Foundation Acquires Unique Whaly Tender From Nautical Ventures to Support Marine Science
West Palm Beach, Florida (October 26, 2022) – To grow research expedition capabilities and support, ANGARI Foundation acquired a specialized Whaly 500R Pro from Nautical Ventures. The Foundation's new Whaly tender will be used as a support vessel on R/V ANGARI during expeditions and as a solo work boat for local projects in South Florida.
The Whaly 500R Pro is 16 feet long with a 60 hp Yamaha outboard. For its size, the boat offers generous deck space for equipment or dive tanks and has an opening bow door for easy loading and boarding. ANGARI has also equipped it with a Garmin GPS, VHF radio and an Automatic Identification System (AIS). The Whaly tender is an integral part of ANGARI's research vessel and expedition success, directly supporting shark research, sea turtle tagging and nesting studies, coral reef surveys, scuba diving, instrument and drift card deployments and much more.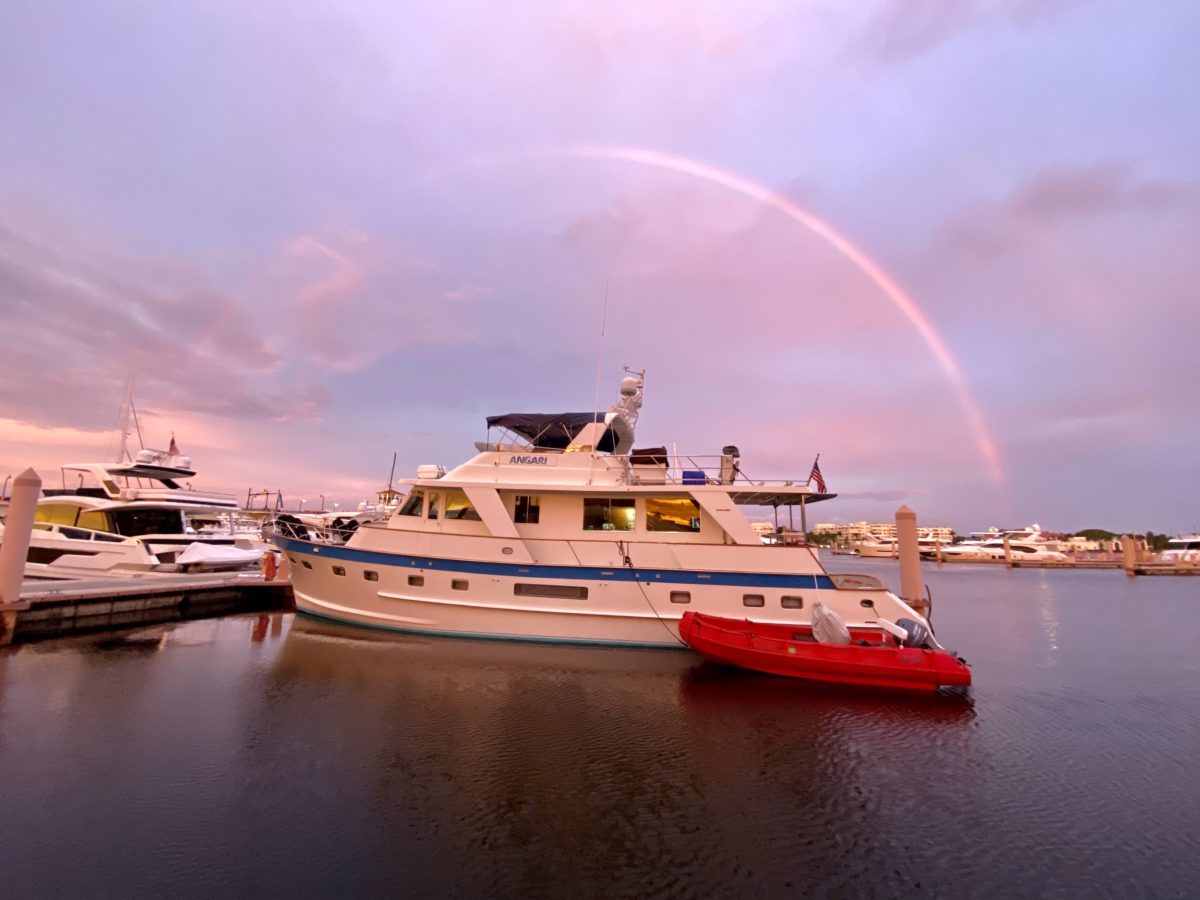 Unfortunately, in late 2021, ANGARI discovered that the existing outboard motor on R/V ANGARI's tender suffered a major failure and was irreparable. After months of battling supply shortages and demand increases, the Foundation struggled to find a replacement until Nautical Ventures generously helped them acquire and equip the new Whaly tender.
"We cannot thank Nautical Ventures enough for their generous support. The Whaly design is incredibly versatile, and we're excited to have this unique tender to support R/V ANGARI expeditions, as well as to use locally on its own in Palm Beach County," said Angela Rosenberg, ANGARI Foundation president and captain of the research vessel ANGARI. "Having a reliable tender onboard our research vessel while traveling is vital to safety at sea. This boat is crucial to our operations and overall mission and impact."
CEO of Nautical Ventures, Roger Moore, supports ANGARI's efforts in ocean research. He spent 13 years sailing 42,000 nautical miles around the globe on board his 63-foot Cheoy Lee Motorsailer. "By publicly sharing their expeditions and scientific findings, ANGARI's contribution to the marine community will make it a better world for all," said Moore.
ANGARI Foundation's own marine science research and conservation efforts are made possible through donations, fundraising, and other partnerships. As of October 2022, ANGARI has completed 53 expeditions, ranging from day trips off the coast of Palm Beach County to several week long expeditions in remote locations in The Bahamas, Gulf of Mexico and the Florida Keys. This work has directly contributed to marine science research, youth education and citizen science.
The Whaly tender is supporting a variety of inshore work, including assisting with local marine megafauna and shark research and education expeditions. In November it will be used to help deploy drift cards during ANGARI's Lagoon Drift citizen science project. The boat will also be made available for local research projects in and around the Lake Worth Lagoon.
###
---
About ANGARI Foundation
ANGARI Foundation is a 501(c)(3) private operating foundation established in 2016 and headquartered in West Palm Beach, Fla. The Foundation is dedicated to creating a global community that is interested, knowledgeable, and invested in marine and environmental sciences by directly supporting research initiatives that foster a greater trust and dialogue between scientists and the public. ANGARI Foundation uses innovative technology, film, and other media to raise awareness and strengthen science education. Many of the Foundation's primary initiatives involve R/V ANGARI, a 65-foot vessel that serves as an exceptional research and education platform. For more information, visit www.angari.org.
---
Contact: Chelsea Casagrande
Venue Marketing Group
(561) 844-1778, ext. 120
chelsea@venueadv.com