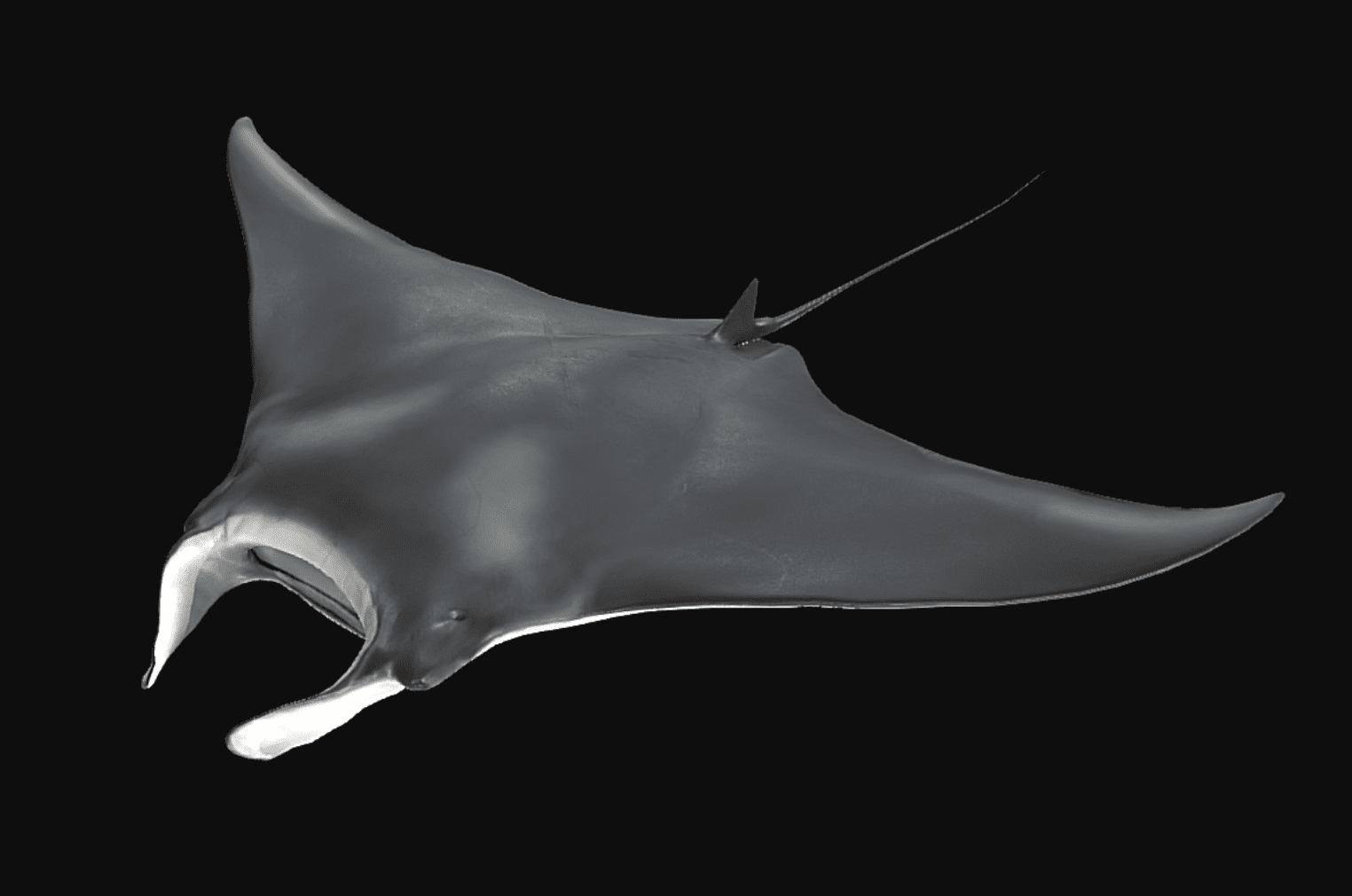 Palm Beach Manta Ray Immortalized by Local Nonprofits
(April 5, 2022) – Not many are aware that Florida is home to a large seasonal aggregation of adult manta rays and also serves as an important manta ray nursery. In light of this, a collaborative team came together with the goal of bringing this incredible marine animal to the forefront by creating an accurate 3D manta ray model.
The first study on the South Florida manta ray population was published by the Florida Manta Project. A research group within the Marine Megafauna Foundation, the Florida Manta Project has been studying manta rays in the area since 2016.
"As the first group to study south Florida's manta rays, we were incredibly surprised to learn that this population is composed exclusively of juvenile manta rays. We were also disheartened to see so many mantas entangled in fishing line and with injuries from boat propellers. Continued research, mitigation of threats and increased public education is crucial for the conservation of Florida's manta rays," explains Jessica Pate, Lead Scientist for the Florida Manta Project.
Digital Life and ANGARI Foundation agree that education and public awareness is vital for conservation and have some experience when it comes to modeling threatened marine life. A few years back, the two partnered on a 3D shark model, which resulted in a first-of-its-kind accurate, animated great hammerhead shark. The model has since been used for research and education purposes. The Digital Life Project, based out of University of Massachusetts Amherst, has established itself as a leader in creating high-quality 3D models of living organisms, and West Palm Beach headquartered ANGARI Foundation is dedicated to marine science research and education, using innovative technology and film to raise awareness and strengthen science education. Bringing attention to Florida manta rays was an exciting proposition.
Pate's research team regularly uses drones, aerial surveys and in-water photography and videography to collect measurements and track individuals in the Florida manta ray population. For the modeling project, the team spent a week working offshore Palm Beach County searching for manta rays, and whenever possible, the team captured up close photographs and video footage of individuals. Many of the week's manta rays had been observed prior, and a few of the friendlier, more curious rays made data collection easy.
One such manta ray was a 2.5 meter (8 feet), juvenile male manta ray named Skye. Florida Manta Project researchers originally recorded Skye's presence in June of 2020 and have since spotted him more than 20 times. Using collected footage and measurement data, the Digital Life animator recreated the manta ray's shape, gills, mouth and other attributes, including adding Skye's identifying details and texture. Even the ray's scars from a boat prop are noticeable. Finally, the model was rigged for final animation, which accurately depicts Skye's swimming motion and the lifelike movement of his cephalic fins during feeding.
Duncan Irschick, Director of Digital Life, is excited for the possibilities this manta ray model can provide, "This was an amazing collaboration that has resulted in a one-of-a-kind scientific and educational tool that we hope can be shared widely. The 3D model can be used to study energetics of movement, as well as body condition and health in manta rays, and therefore helps preserve these remarkable animals."
Skye is the only accurate 3D model of a manta ray and an invaluable digital specimen to represent Florida's manta ray population as well as manta rays globally. His impeccably modeled look and movements combined with his well-documented friendly personality surely makes Skye the most interesting manta ray in the world.
###
---
About ANGARI Foundation
ANGARI Foundation is a 501(c)(3) private operating foundation established in 2016 and headquartered in West Palm Beach, FL. The Foundation is dedicated to creating a global community that is interested, knowledgeable and invested in marine and environmental sciences by directly supporting research initiatives that foster a greater trust and dialogue between scientists and the public. ANGARI Foundation uses innovative technology, film and other media to raise awareness and strengthen science education. Many of the Foundation's primary initiatives involve R/V ANGARI, a 65-foot vessel that serves as an exceptional research and education platform. For more information visit www.angari.org.
About Digital Life Project
The Digital Life Project (www.digitallife3d.org) aims to preserve the heritage of life on Earth through creating and sharing high-quality and accurate 3D models of living organisms. We aim to spur scientific discovery, support wildlife conservation and create educational opportunities. The Digital Life project is a non-profit initiative within the University of Massachusetts at Amherst that creates digital 3D models of living organisms to support wildlife conservation, science and education. We are partnering with scientists, zoos, and NGOs to ethically gain access to a wide array of animals for 3D scanning, including endangered species. Utilizing the Beastcam™ technology, our team of photographers, engineers, modelers and scientists creates high-quality 3D models through photogrammetry – the integration of 2D images to create 3D models. Digital Life's models are freely available online for public viewing and free downloads are available for creative and non-profit work.
About Marine Megafauna Foundation
The Marine Megafauna Foundation (MMF) was created in 2009 to research, protect, and conserve the populations of threatened marine megafauna around the world. MMF's headquarters are located in Tofo, Mozambique, where they operate as Associação Megafauna Marinha (AMM). 'Megafauna' are large species such as sharks, rays, and sea turtles. For further details, please see www.marinemegafaunafoundation.org.
---
Contact: Angela Rosenberg
Phone [M]: 305-299-4458
Email: angela@angari.org
---
The release of this 3D model was covered locally and globally by several outlets, including:
Forbes
"How 3D Models Have Shed Light on Manta Rays"

Scuba Diver Magazine
"Manta rays focus of Florida 3D modelling project"
WPBF 25 ABC
"Rare juvenile manta ray population close to Treasure Coast shoreline in danger from boaters and beach goers"
SEVENSEAS
"MMF & Partners create First-Ever Accurate Digital 3D Model of a Manta Ray"
Oceanographic
"First-ever accurate digital 3D model of a manta ray created"
DIVE Magazine
"MMF reveals new 3D manta ray model"
Southern Boating
"Palm Beach Manta Rays"
Worth Avenue Yachts
"ANGARI FOUNDATION & LOCAL NONPROFITS TEAM UP"