Using Tech to Advance Reef Science
Will Greene, Research Associate
Perry Institute for Marine Science
Will Greene discusses how PIMS uses photogrammetry and 3D modeling to advance coral monitoring, conservation and restoration.
Ocean Expert Exchange is a live educational webinar series featuring experts in marine science and technology, many of whom have participated in expeditions onboard R/V ANGARI. The 30-minute live events welcome audiences of all ages and include a presentation on the speaker's area of expertise followed by Q&A with participants. The series is co-hosted by ANGARI Foundation and the University of Florida Thompson Earth Systems Institute's Scientist in Every Florida School program.
PRESENTER BIO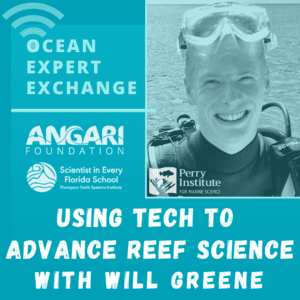 Will Greene is a Research Associate at the Perry Institute for Marine Science, specializing in geographic information systems (GIS), coral reef photogrammetry and 3D modeling. His goal is to use technology to advance science and inspire the public to care about the environment and conservation. While underwater, Will spends most of his time behind a camera taking thousands of photos that are stitched together into ultra-high-resolution maps of reef sites. At PIMS, Will has applied his GIS and photography skills to assist in the development of a photogrammetry program to document reef conditions and supplement the institute's field research. He is excited to bring his passion for conservation, marine biology, photography and GIS together to help protect Bahamian reef ecosystems. He aims to help move the institute's data collection process forward by transforming it into a unified geospatial workflow, creating new opportunities to analyze and share data with the public and partners.