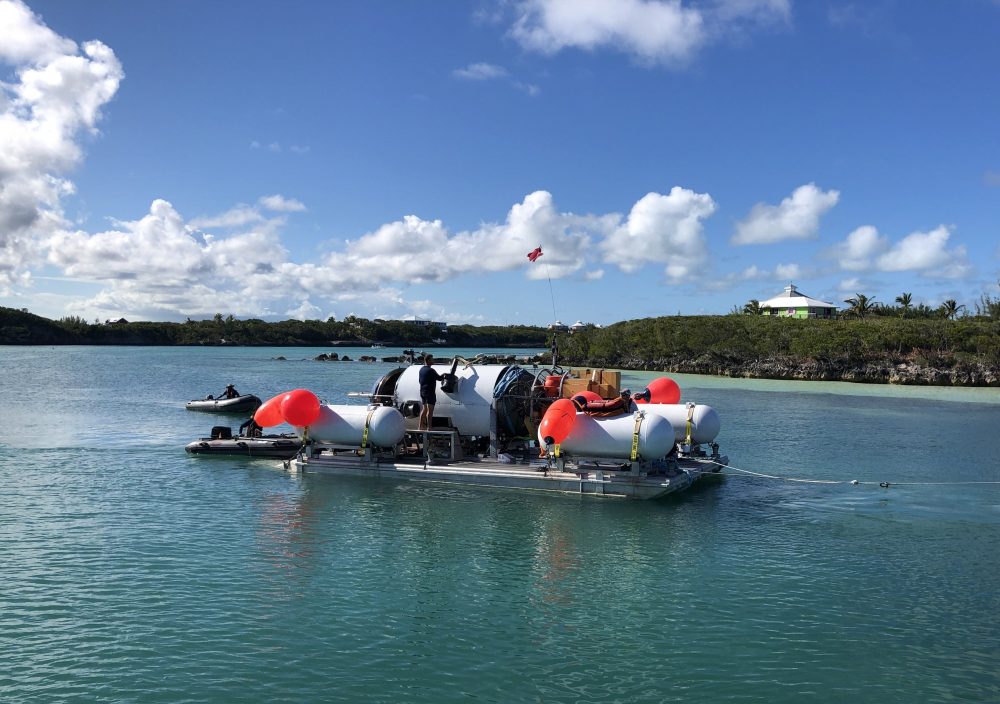 OceanGate deep-sea submersible makes record-breaking dive in The Bahamas; R/V ANGARI provides surface support 
The Bahamas (April 25, 2019) – Approximately 10 nautical miles offshore of Great Abaco, OceanGate broke a deep-sea diving record by transporting a crew of four on an abyssal descent to 3,760 meters onboard its Titan submersible. R/V ANGARI and her crew were on site, serving as the main tow and surface support vessel for the dive.
"This dive was another important step toward deep-sea exploration to more people and places," OceanGate CEO Stockton Rush, who served as Titan's chief pilot for the trip, said in a news release. "We are developing technologies and designing submersibles and infrastructure that is making underwater exploration more accessible than ever before." OceanGate said it took two hours for Titan to descend to the ocean floor, outside Little Harbor near Great Abaco Island in the Bahamas. Accompanying Rush on this journey to the deep were Joel Perry, president of OceanGate Expeditions; Karl Stanley, owner of Roatan Institute of Deepsea Exploration; and Petros Mathioudakis, field technician for 2G Robotics. Titan's crew members spent an hour capturing 4K video imagery and testing 2G Robotics' underwater laser scanner as they surveyed the ocean floor.
Dive crew inside Titan just before closing the forward dome. From left to right: Karl Stanley, Petros Mathioudakis, Stockton Rush and Joel Perry.
(Photo Credit: OceanGate)
With only a handful of submersibles in the world that can reach these depths, OceanGate's Titan is the only submersible capable of carrying five people beyond a depth of 3,000 meters. OceanGate is improving submersible safety with its proprietary Real Time Monitoring system that constantly monitors hull integrity throughout every dive and its patented launch and recovery platform that permits the use of smaller vessels and eliminates the need for divers in the water during launch and recovery. Titan's carbon fiber hull means it can accommodate up to five crew members, while being lighter than any other deep diving submersible. A smaller and lighter sub allows OceanGate to use smaller topside support vessels and means the submersible, its platform, and support systems can be transported anywhere in the world in standard shipping containers.
During the weeklong expedition, the OceanGate crew and R/V ANGARI were based out of Little Harbour served as an optimal hub for on-site operations and maintenance procedures in between dive days due to its close proximity to deep waters offshore. Various systems testing and submersible dives were conducted throughout the week in preparation for OceanGate's 2019 Titanic Survey Expedition, which will take place later this summer.
R/V ANGARI docked in Little Harbour.
(Photo Credit: OceanGate)
For more information about this expedition, including additional photos and video footage, please click here.
Thank you to JV Connectivity for providing Internet access and data services onboard R/V ANGARI during this expedition.
Story update: OceanGate's Titanic Survey Expedition has been postponed to 2020.
---
About OceanGate
OceanGate is making private deep-sea exploration possible for commercial, scientific and exploration travel expeditions. Founded in Everett, Washington in 2009, the company provides manned submersible services to reach ocean depths previously unavailable to most individuals and organizations. OceanGate currently owns and operates three 5-person submersibles that provide deep-sea access for site survey, scientific research, film production, and travel. Visit www.oceangate.com.
About ANGARI Foundation
ANGARI Foundation is a 501(c)(3) private operating foundation established in 2016 and headquartered in West Palm Beach, FL. The Foundation is dedicated to creating a global community that is interested, knowledgeable and invested in marine and environmental sciences by directly supporting research initiatives that foster a greater trust and dialogue between scientists and the public. ANGARI Foundation uses innovative technology, film and other media to raise awareness and strengthen science education. Many of the Foundation's primary initiatives involve R/V ANGARI, a 65-foot vessel that serves as an exceptional research and education platform. For more information visit www.angari.org.
For media inquiries please contact
media@angari.org
+1 561 370-7371
————————————