"Titan submersible has transported a crew of four on a descent of 3,760 meters, breaking a deep-sea diving record. OceanGate says Titan is the only submersible capable of carrying five people beyond a depth of 3,000 meters." – CompositesWorld
In April 2019, ten nautical miles offshore of Little Harbour, Great Abaco in the Atlantic Ocean, the OceanGate dive and support crew spent one week running tests on their Titan submersible in preparation for the 2019 Titanic Survey Expedition. R/V ANGARI was on site as the surface support and towing vessel. Operations and mission control were run from the indoor lab, and OceanGate participants were able to observe all dive and recovery operations from the upper deck of R/V ANGARI. The patented launch and recovery platform was used for all sub operations. This platform allows a smaller vessel such as R/V ANGARI to solely transport, launch and recover Titan.
The April 17th voyage marks a historic event, as the successful dive with four crew onboard Titan marked the first time a non-military submersible carried more than three people to 3,760 meters beneath the surface of the ocean.

Thank you to JV Connectivity for providing Internet access during the expedition.
VIDEOS:
April 12th:

April 14th:

April 17th:

OCEANGATE CEO AND SUBERSIBLE PILOT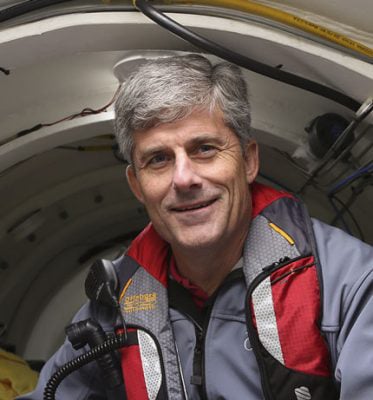 Stockton Rush was Chief Executive Officer and Co-Founder of OceanGate Inc. As CEO, Rush was responsible for OceanGate's financial and engineering leadership, shaping the company's strategic direction with a clear vision focused on developing the next generation of manned submersible solutions for subsea operations in the commercial and defense sectors.
"'This dive was another important step toward deep-sea exploration to more people and places,' OceanGate CEO Stockton Rush, who served as Titan's chief pilot for the trip, said today in a news release. "We are developing technologies and designing submersibles and infrastructure that is making underwater exploration more accessible than ever before." OceanGate said it took two hours for Titan to descend to the ocean floor, outside Little Harbor near Great Abaco Island in the Bahamas. Accompanying Rush on the ride were Joel Perry, president of OceanGate Expeditions; Karl Stanley, owner of Roatan Institute of Deepsea Exploration; and Petros Mathioudakis, field technician for 2G Robotics. Titan's crew members spent an hour capturing 4K video imagery and testing 2G Robotics' underwater laser scanner as they surveyed the ocean floor."
GeekWire
"Oceangate gears up for deep-sea dives with a crew that'll pay for the privilege"
GeekWire
"OceanGate's Titan submersible carries four aquanauts on a record-setting dive"