Sharks – Predator or Prey?
Marine Community and Behavioral Ecology Lab at
Florida International University
Sara Casareto discusses the complex role sharks play in marine ecosystems, and how this influences management and conservation.
October 26th, 2023 @ 1 PM ET
Select Supplemental Content: [Coming soon!]
Educators- would you like to be kept up to date on ANGARI ocean science education content & programs like this? If so, please complete our Educator Registration form!
PRESENTER BIO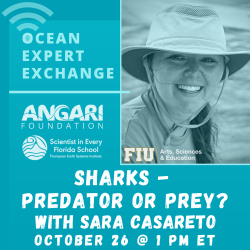 Sara Casareto's work focuses on behavioral ecology and trophic interactions. Her current research centers around elasmobranch biology and ecology, looking at different factors that affect juvenile shark behavior and decision making in coastal waters. The specific questions she is interested in involve risk from larger sharks, abiotic factors like salinity and temperature, and the presence/absence of different shark species. Originally from Maryland, Sara has been in Florida since 2016. She holds a B.S. in Biology-Marine Science from the University of Tampa and has studied marine species ranging from sharks to photosynthetic sea slugs. Sara hopes to further her career in predator-prey interactions to help elucidate management and conservation strategies for shark and ray populations. A passionate educator, Sara is involved in outreach through National Geographic, The Rookery Bay National Estuarine Research Reserve, ANGARI's Coastal Ocean Explorers: Sharks program and social media.
Ocean Expert Exchange is a live educational webinar series featuring experts in marine science and technology, many of whom have participated in expeditions onboard R/V ANGARI. The 30-minute live events welcome audiences of all ages and include a presentation on the speaker's area of expertise followed by Q&A with participants. The series is co-hosted by ANGARI Foundation and the University of Florida Thompson Earth Systems Institute's Scientist in Every Florida School program.