ANGARI celebrated its 75th expedition with The Conservatory School @ North Palm Beach students and educators, R/V ANGARI crew and Florida International University scientists as part of the Coastal Ocean Explorers: Sharks program.
Graceanne Barksdale
Sara Casareto
Sophia Hemsi
John Hernández
William Sample

All sharks were fished for, caught, studied and released for research purposes under Florida permits held by Florida International University scientists.
Students and teachers from The Conservatory School @ North Palm Beach joined ANGARI crew and Florida International University (FIU) College of Arts, Sciences and Education scientists onboard R/V ANGARI for the last Coastal Ocean Explorers: Sharks expedition of the 2023 fall school semester. Before departing the dock, 14 middle school students gathered on the vessel's flybridge and were given an overview of the day by scientists and staff. Roles and responsibilities were divided amongst groups, and students got to work! The morning consisted of assembling, deploying, retrieving and analyzing footage collected from the baited remote underwater video system (BRUVS). Students worked side-by-side with scientists in a variety of tasks including attaching the BRUVS arm, bait cage and GoPro to its large metal frame, maneuvering the BRUVS onto the ocean floor and pulling it back onto the vessel after 60 minutes underwater. Students analyzed the BRUVS footage by identifying the different species that swam past the camera and measuring species' abundance.
As the day continued, it was time to begin fishing! FIU scientists assisted students in setting up and deploying drumlines, a type of fishing gear used by researchers to safely and effectively catch large predators like sharks. Student responsibilities included attaching bait to circle hooks, letting out line, lowering drumline weights into the water and tossing the attached yellow buoys overboard. As a student pulled up the baited monofilament, it was obvious that something was on the other end of the line. To the students surprise, it was not a shark, but instead a curious goliath grouper. The goliath grouper, an endangered species, is protected in Florida waters and was safely and quickly released by FIU scientists. Throughout the day, students and scientists deployed and retrieved 16 drumlines in total. Although no sharks were caught during the expedition, students, educators, scientists and crew had a fabulous time spending an exciting and educational day out on the water!
This expedition was supported by the Great Charity Challenge.
CHIEF SCIENTIST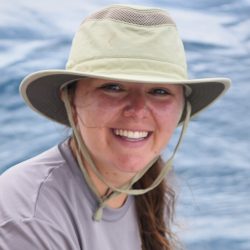 Sara Casareto is a Ph.D. candidate in the Marine Community and Behavioral Ecology Lab at Florida International University.  Her work focuses on behavioral ecology and trophic interactions. Her current research centers around elasmobranch biology and ecology, looking at different factors that affect juvenile shark behavior and decision making in coastal waters. The specific questions she is interested in involve risk from larger sharks, abiotic factors like salinity and temperature, and the presence/absence of different shark species. Originally from Maryland, Sara has been in Florida since 2016. She holds a B.S. in Biology-Marine Science from the University of Tampa and has studied marine species ranging from sharks to photosynthetic sea slugs. Sara hopes to further her career in predator-prey interactions to help elucidate management and conservation strategies for shark and ray populations. A passionate educator, Sara is involved in outreach through National Geographic and The Rookery Bay National Estuarine Research Reserve and ANGARI Foundation.