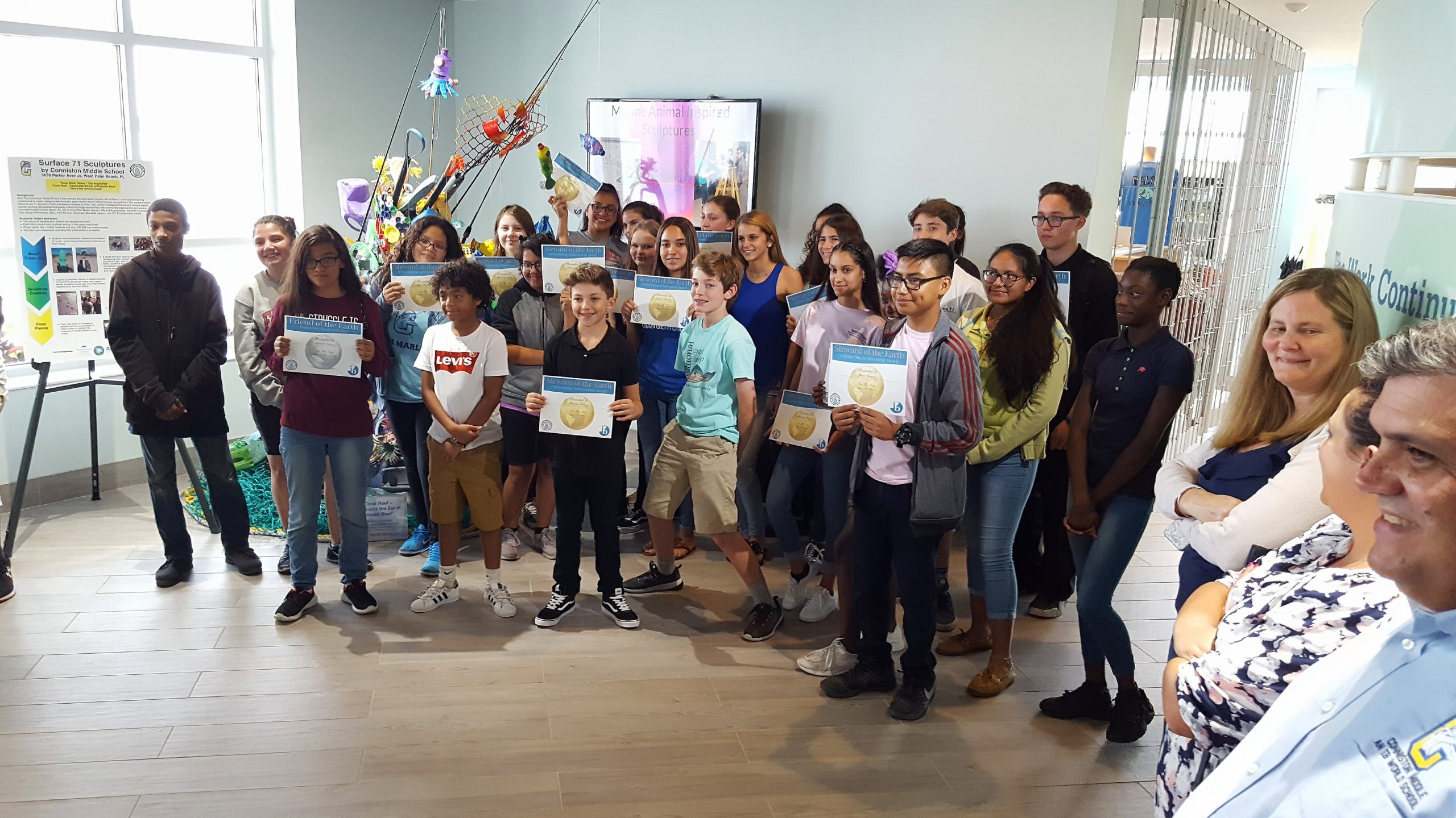 Surface 71's "Think Blue Go Green Project" on Display at Manatee Lagoon
West Palm Beach, Florida (May 29, 2018) – After months of hard work gathering  plastic pollution and ghost fishing gear from local beaches and then transforming it into large-format works of art, ANGARI Foundation's partners at Conniston Middle School and Friends of Palm Beach are proud to reveal their marine debris sculptures at the premiere of Surface 71's "Think Blue Go Green Project" at Manatee Lagoon – An FPL Eco-Discovery Center™.
Motivated by the crucial need for education and awareness regarding the global problem of plastic pollution, this project was born nearly a year ago when ANGARI Foundation sat down with Diane Buhler from Friends of Palm Beach and several Palm Beach County teachers, including Stephanie Killingsworth, Christine Williams, and Jennifer Briceno, to discuss ways of integrating marine debris and ocean health into service-learning at local schools. Spearheaded by Stephanie Killingsworth at Conniston Middle School, what started as a plan for routine student participation in local beach cleanups with Friends of Palm Beach quickly grew to include the use of the collected debris for the creation of several marine life themed art pieces inspired by the "Washed Ashore" exhibit.
The ultimate result was more than 500 students from Conniston Middle School working together with the Friends of Palm Beach to conduct monthly beach cleanups on Palm Beach throughout the academic year. Just one of these two-hour cleanups typically yielded as much as 2,500 pounds of trash, most of which was plastic debris. Students then sorted and cleaned the debris, and used it to design and construct breathtaking and thought-provoking sculptures of marine life with help from Conniston art teacher, Jade Henderson, and local artist, Norman Gitzen.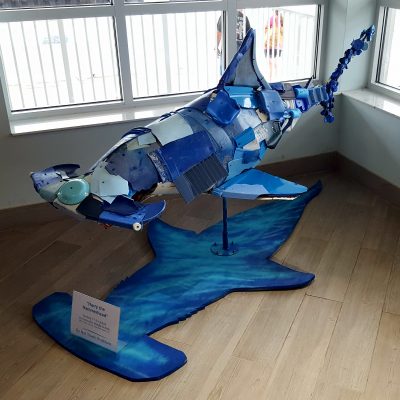 On Tuesday, May 29th, the program partners held a free exhibit opening and awards ceremony at Manatee Lagoon to celebrate the efforts of the participating students. The sculptures will continue to be on display at Manatee Lagoon – An FPL Eco-Discovery Center™ throughout the summer in order to further the project's goals of raising public awareness of the growing problem of marine debris and the detrimental effects that it has on our oceans and their inhabitants, while also encouraging viewers to refuse, reduce, reuse, and recycle.