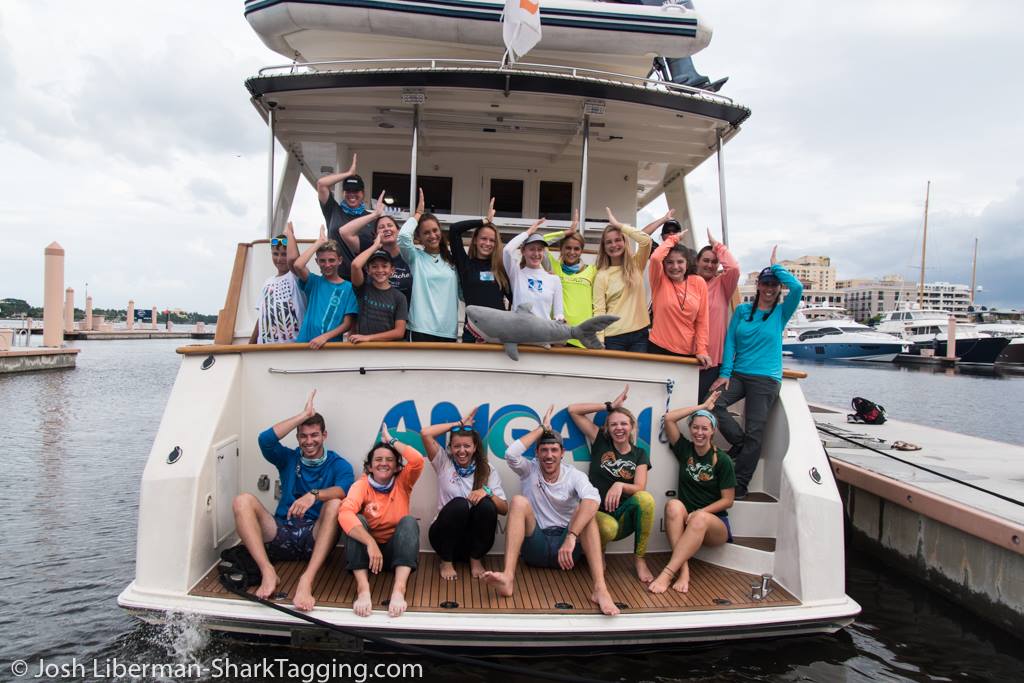 Successful Weekend of Shark Tagging with University of Miami Scientists and South Florida Youth
West Palm Beach, Florida (September 22, 2017) – ANGARI Foundation concluded its summer season with an incredibly successful weekend of shark tagging off West Palm Beach, FL. The weekend marked the fourth and fifth sponsored trips onboard R/V ANGARI with the University of Miami's Shark Research and Conservation Program (SRC) based at UM's Rosenstiel School of Marine & Atmospheric Science.
SRC's field team spent two days onboard the vessel conducting shark research, including the collection of vital data on shark morphology, physiology and health. Over the two days, 25 citizen scientists, between 9 and 53 years of age, joined the scientific team onboard to participate in this ongoing research. Many of the participants were festival winners from Youth Making Ripples, a nonprofit film competition for grades K-12. A second group of participants included students and teachers from Conniston Middle School, an IB World School located in Palm Beach County.
SRC involved the citizen scientists in multiple parts of the shark tagging process, from deploying bait to taking measurements and tagging the sharks. Good weather and great enthusiasm led to two very productive days of fieldwork. In total 7 sandbar sharks, 2 bull sharks, 2 tiger sharks, 1 lemon shark, 1 nurse shark and 1 great hammerhead shark were caught, worked up and released.
ANGARI Foundation is proud to support the University of Miami's Shark Research and Conservation Program and looks forward to continued trips in 2018.
---
About University of Miami Shark Research and Conservation Program
Directed by Dr. Neil Hammerschlag, the Shark Research & Conservation Program (SRC) at the University of Miami Rosenstiel School conducts science centered broadly on food-web dynamics and the behavioral ecology, conservation biology and movement ecology of marine predators. Research projects currently underway are primarily focused on the ecology, movement and conservation of sharks. A core component of SRC's work is to foster scientific literacy and environmental ethic in youth and the public by providing exciting hands-on field research experiences in marine conservation biology. For more information, visit www.SharkTagging.com.
About ANGARI Foundation
ANGARI Foundation is a 501(c)(3) private operating foundation established in 2016 and headquartered in West Palm Beach, FL. The Foundation is dedicated to creating a global community that is interested, knowledgeable and invested in marine and environmental sciences by directly supporting research initiatives that foster a greater trust and dialogue between scientists and the public. ANGARI Foundation uses innovative technology, film and other media to raise awareness and strengthen science education. Many of the Foundation's primary initiatives involve R/V ANGARI, a 65-foot vessel that serves as an exceptional research and education platform. For more information visit www.angari.org.