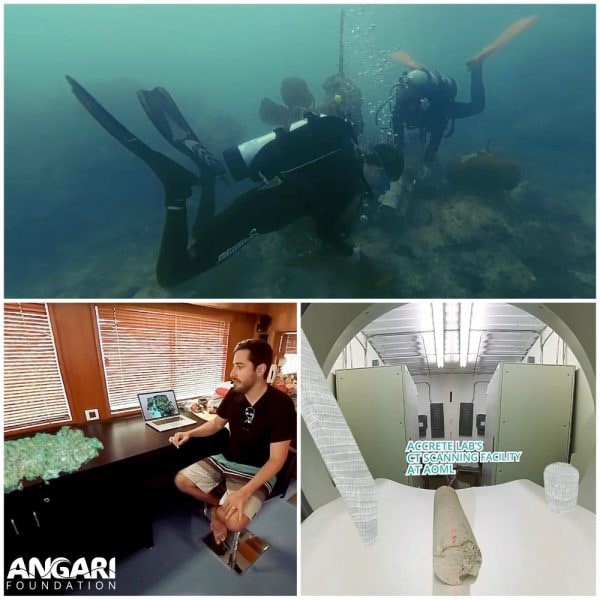 ANGARI Foundation to Premiere Its First Generation Ocean 360/VR Film at NOAA Open House
Miami, Florida (May 11, 2018) – ANGARI Foundation is excited to announce the premiere of its first Generation Ocean 360/VR film, entitled Generation Ocean: Coral Reefs. This six-minute film follows National Oceanic and Atmospheric Administration (NOAA) and University of Miami Rosenstiel School of Marine and Atmospheric Science (UM) scientist Dr. Ian Enochs and his research team as they use various scientific methods to study coral reef habitats in the Florida Keys.
The 360/VR film experience is designed to immerse the viewer in the environment, providing them with a "firsthand" view of the fieldwork and making them feel as if they are part of the expedition. In particular, Generation Ocean: Coral Reefs is set in the Florida Keys National Marine Sanctuary onboard R/V ANGARI during a several day expedition. The viewer experiences photo mosaic imaging and surveying of a coral reef, collection of a coral core, and taking coral samples back to the Experimental Reef Laboratory at the Rosenstiel School and the CT Scanning Facility at NOAA's Atlantic Oceanographic and Meteorological Laboratory (AOML) for further experimental analyses.
Beyond providing an inside look at coral reefs and ongoing research of this important ecosystem, the film was produced as an educational tool to be used in the classroom. In collaboration with Dr. Enochs and other coral reef and educational experts, ANGARI Foundation's Educator Council will be developing standards-oriented lesson plans to complement the film and facilitate a more in-depth and engaging marine science learning experience in the classroom.
Using this innovative technology to bring marine science to the broader community and into the classroom is a major part of ANGARI Foundation's mission. The Foundation is dedicated to creating a global community that is interested, knowledgeable and invested in marine and environmental sciences, fostering a greater trust and dialogue between scientists and the public, and strengthening science education.
The premiere of Generation Ocean: Coral Reefs is open to the public and will take place during NOAA's Open House this Saturday, May 12th, from 10 am – 3 pm at AOML, 4301 Rickenbacker Causeway, Miami, FL. During the Open House, attendees will be able to not only experience the premiere of ANGARI Foundation's new 360/VR film, but will also have the opportunity to meet NOAA scientists, tour the facilities, and learn about hurricanes, corals, fisheries, weather, and more. For additional information regarding the NOAA Open House, please click here.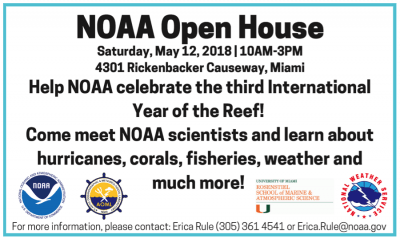 Anyone unable to attend the NOAA Open House will be able to experience the 360/VR episode of Dr. Enoch's coral reef expedition and all of ANGARI Foundation's videos (with or without a VR headset) by visiting ANGARI's website and YouTube channel.
ANGARI Foundation would like to thank NOAA, AOML, CIMAS, UM Rosenstiel School, Florida Keys National Marine Sanctuary, Chaos Media, Light Sail VR, and MAGIC at Miami Dade College for their incredible contributions to the creation and completion of Generation Ocean: Coral Reefs.
UPDATE: Read more about NOAA AOML's coverage of the 2018 Open House here.
---
About ANGARI Foundation
ANGARI Foundation is a 501(c)(3) private operating foundation established in 2016 and headquartered in West Palm Beach, FL. The Foundation is dedicated to creating a global community that is interested, knowledgeable and invested in marine and environmental sciences by directly supporting research initiatives that foster a greater trust and dialogue between scientists and the public. ANGARI Foundation uses innovative technology, film and other media to raise awareness and strengthen science education. Many of the Foundation's primary initiatives involve R/V ANGARI, a 65-foot vessel that serves as an exceptional research and education platform. For more information visit www.angari.org. 
About Dr. Ian Enochs
Dr. Enochs is a NOAA scientist known for his scientific fieldwork and laboratory studies on the effects of global change on corals and reef biota. Dr. Enoch's research helps improve the science community's ability to predict, manage, and conserve critically important coral reefs.
About NOAA
The National Oceanic and Atmospheric Administration (NOAA) is a federal scientific agency that focuses on the conditions of the oceans and the atmosphere. The NOAA's mission is to understand and predict changes in climate, weather, oceans and coasts; to share that knowledge and information with others; and to conserve and manage coastal and marine ecosystems and resources. To achieve its mission, the NOAA provides daily weather forecasts, severe storm warnings, climate monitoring, fisheries management, coral monitoring, coastal restoration, and so much more.
About AOML
As part of NOAA's Office of Oceanic and Atmospheric Research, AOML is a federal research laboratory in Miami that conducts research to understand the physical, chemical, and biological characteristics and processes of the ocean and atmosphere. AOML's research spans hurricanes, coastal ecosystems, oceans and human health, climate studies, global carbon systems, and ocean observations.
About the University of Miami's Rosenstiel School
The University of Miami is one of the largest private research institutions in the southeastern United States. The University's mission is to provide quality education, attract and retain outstanding students, support the faculty and their research, and build an endowment for University initiatives. Founded in 1943, the Rosenstiel School of Marine & Atmospheric Science has grown into one of the world's premier marine and atmospheric research institutions. Offering dynamic interdisciplinary academics, the Rosenstiel School is dedicated to helping communities to better understand the planet, participating in the establishment of environmental policies, and aiding in the improvement of society and quality of life. For more information, visit: www.rsmas.miami.edu.
For media inquiries, please contact media@angari.org or 561-370-7371.