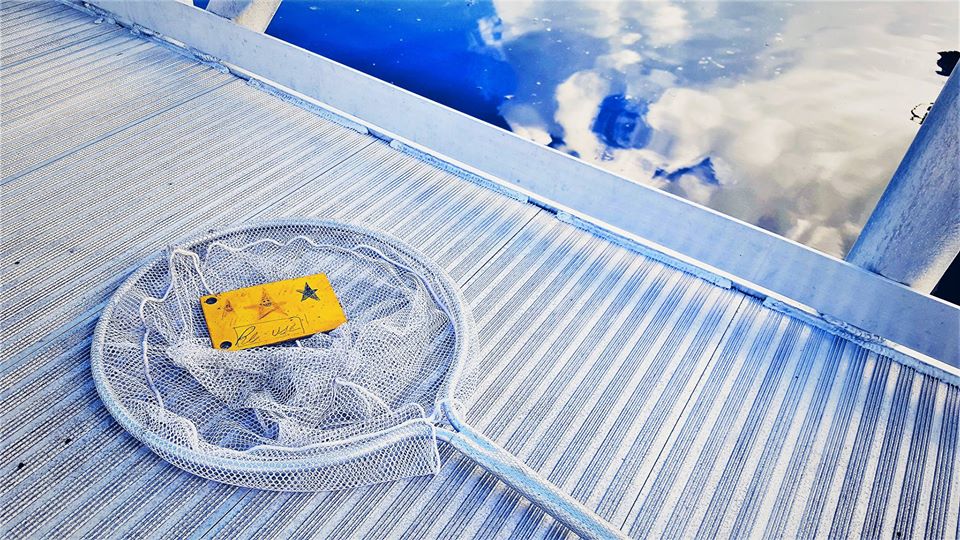 ANGARI Foundation Continues to Engage Community in Citizen Science Project Studying Marine Debris in Local Waterways
Palm Beach County, Florida (August 29, 2018) – On September 9th, 2018, ANGARI Foundation will initiate the third experiment of the Lake Worth Lagoon Drift Card Study, a citizen science program that encourages the local community's participation to improve understanding of how debris is transported in coastal waterways in and around Palm Beach County. Also known as Lagoon Drift, this study involves the simultaneous release of 40 small biodegradable wooden drift cards from each of six sites around Lake Worth Lagoon, for a total of 240 deployed cards. The cards float on the water's surface and are carried by currents and tides before washing up along the shore where members of the public find them. Each card is marked with instructions for the discoverer to report the pertinent study data.
Lagoon Drift is an extension of the Biscayne Bay Drift Card Study, or Bay Drift, by the Consortium for Advanced Research on Transport Hydrocarbon in the Environment (CARTHE) at the University of Miami's Rosenstiel School of Marine and Atmospheric Science. Bay Drift began in 2016 as an effort to determine the origins of marine debris found at Vizcaya Museum & Gardens in Miami and has increased its coverage area ever since. With support from CARTHE, ANGARI Foundation has expanded the Miami-based Bay Drift program to Palm Beach County, with the first and second Lagoon Drift experiments occurring in November 2017 and April 2018.
As with other drift card studies of this nature, Lagoon Drift not only enhances our knowledge of water and debris movement around the Lake Worth Lagoon, but also helps to raise awareness and encourage dialogue about marine pollution, a growing issue both locally and worldwide. Furthermore, the study enables the community to take an active role in citizen science, encouraging organizations and people of all ages to participate by decorating drift cards to improve card visibility and reporting, assisting with drift card deployment, and taking to the coast in the weeks following the drift card release to search for and report cards. Working with local partners, ANGARI Foundation actively engaged over 500 members of the public during the first two Lagoon Drift experiments.
With each Lagoon Drift study, ANGARI Foundation works to expand its community involvement, providing educational programming to new audiences and growing local partnerships. To enhance recovery, the upcoming experiment is scheduled to coincide with the Ocean Conservancy's International Coastal Cleanup on September 15th. Additionally, a number of local partners continue to work with the Foundation in a commitment to increase the reach and community engagement of the project. Lagoon Drift partners participating in the September experiment include Conniston Middle School, Cub Scout Pack 141, Friends of Palm Beach, Forest Glen Ocean Guardians Club, Keep Palm Beach County Beautiful, the Lake Worth Lagoon Initiative, Manatee Lagoon – An FPL Eco-Discovery Center®, Norman Gitzen Gallery, Quest Workspaces, Sea to Shore Alliance, and Surface 71.
Also new to this round of the Lagoon Drift experiment, ANGARI Foundation and its partners will offer prizes to citizen scientists who find and report specially decorated drift cards. Furthermore, on November 4th, ANGARI's Director of Science Education & Advancement, Dr. Amanda Waite, will give a Sunday Seminar at Manatee Lagoon on the study and its findings to date. To learn more about the Lake Worth Lagoon Drift Card Study, visit https://angari.org/lagoondrift. More information on the Biscayne Bay Drift Card Study can be found at https://carthe.org/baydrift.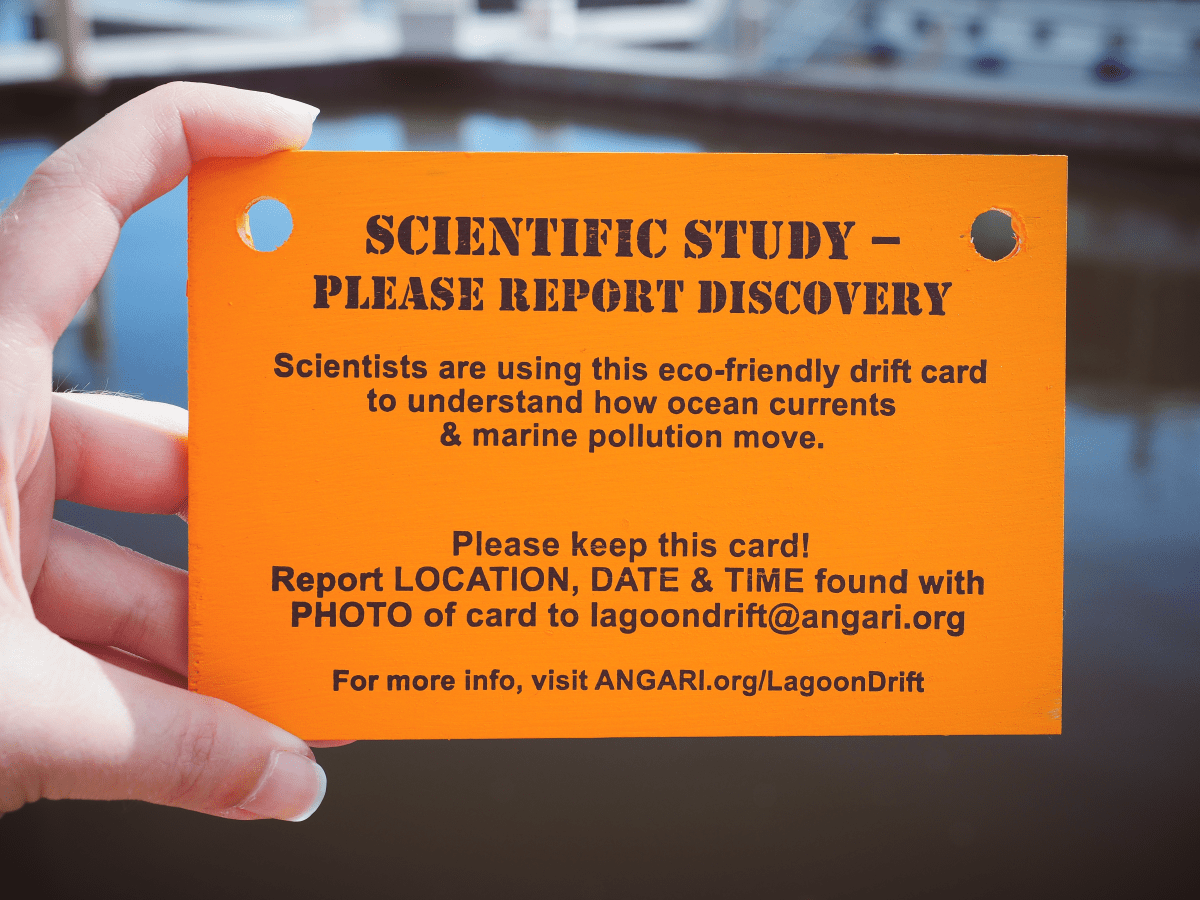 About ANGARI Foundation
ANGARI Foundation is a 501(c)(3) private operating foundation established in 2016 and headquartered in West Palm Beach, FL. The Foundation is dedicated to creating a global community that is interested, knowledgeable, and invested in marine and environmental sciences by directly supporting research initiatives that foster a greater trust and dialogue between scientists and the public. ANGARI Foundation uses innovative technology, film, and other media to raise awareness and strengthen science education. Many of the Foundation's primary initiatives involve R/V ANGARI, a 65-foot vessel that serves as an exceptional research and education platform. For more information visit www.angari.org. For media inquiries, please contact media@angari.org.
About CARTHE
The Consortium for Advanced Research on Transport of Hydrocarbon in the Environment (CARTHE) is a research team dedicated to predicting the fate of oil released into our environment to help inform and guide response teams, thereby protecting and minimizing damage to human health, the economy, and the environment. CARTHE research is funded by the Gulf of Mexico Research Initiative (GoMRI), a 10-year independent research program established to study the effect of hydrocarbon released on the environment. CARTHE developed the Bay Drift and Lagoon Drift studies in partnership with Vizcaya and ANGARI Foundation respectively, along with numerous other environmental organizations across South Florida, to engage the community in its research.
About Conniston Middle School
Conniston Middle School is an Advancement Via Individual Determination (AVID) School, International Baccalaureate (IB) World School, and Green School in West Palm Beach, Florida. Conniston Middle School is committed to providing a world-class education with excellence and equity to empower each student to reach his or her highest potential with the most effective staff to foster the knowledge, skills, and ethics required for responsible citizenship and productive careers.
About Cub Scouts Pack 141
Located in West Palm Beach, Florida, Cub Scouts Pack 141 is an extremely active pack with more than 100 Cub Scouts divided into 5 Dens separated by grade level. Most of Pack 141's Cubs are from local neighborhoods and schools, particularly Palm Beach Public, Rosarian Academy, St. Ann, St. Juliana, and South Olive Elementary. Although there are activities planned throughout the year, the scouting season is heaviest during the school year with new registration every August, but boys can join at any time during the year. 
About Forest Glen Ocean Guardians Club
Founded in 2013, Forest Glen Ocean Guardians Club of Forest Glen Middle School is an action-based group related to the conservation of local watersheds and the world's ocean. We provide opportunities for students, teachers, parents, and friends to participate in a range of environmental and sustainable activities as well as provide learning programs and opportunities that reflect environmentally sustainable practices that enable all students to be environmentally active and committed "Ocean Guardians."
About Friends of Palm Beach
Friends of Palm Beach (FPB) is a 501(c)(3) non-profit organization established in 2014 and headquartered in West Palm Beach, FL. FPB is committed to cleaning the beaches of Palm Beach regularly to remove trash and unnatural debris to support a cleaner ocean and beach environment and to educate the community on the effects of trash, litter, and debris on our environment and marine life and how they can be environmental stewards every day through choices and actions. Friends of Palm Beach hires the clients of The Lord's Place and Vita Nova to clean the beach on a daily basis annually through a transitional work program. FPB also hosts monthly beach cleanups with volunteers from the local community and special clean up events by request. For more information visit www.friendsofpalmbeach.com.  For any inquiries, please contact diane@friendsofpalmbeach.com.
About Keep Palm Beach County Beautiful, Inc.
Keep Palm Beach County Beautiful, Inc., established in 1988, is a 501(c)(3) volunteer-based non-profit organization that serves as the local affiliate of Keep America Beautiful. Its mission is to enhance the quality of life in Palm Beach County through programs and partnerships that encourage public agencies, private entities, residents, and visitors to reduce litter and waste, increase recycling, beautify, maintain, and sustain public spaces, and inspire generations of environmental stewards. www.keepPBCbeautiful.org
About Lake Worth Lagoon Initiative (LWLI)
The Lake Worth Lagoon Initiative (LWLI) is a multiagency and stakeholder collaborative that provides support for increasing awareness of the lagoon and its valuable resources. The multiagency partners include Palm Beach County Environmental Resources Management, South Florida Water Management District, Florida Department of Environmental Regulation, Florida Inland Navigation District, and the Palm Beach County League of Cities. For more than 20 years, governmental agencies, community organizations, and individuals have worked to improve the lagoon's water quality, restore wildlife habitat, prevent pollution, and get the community involved by increasing awareness and taking care of the lagoon. Lake Worth Lagoon is an urban estuary and a valuable natural resource for many species of fish and other wildlife. The lagoon is the largest estuary in Palm Beach County, measuring approximately 20 miles long stretching from North Palm Beach south to Boynton Beach. Today, the lagoon faces many challenges, including pollution, storm water runoff, muck deposition, and habitat loss. To become involved, visit LWLI.org or contact the Palm Beach County Department of Environmental Resources Management.
About Manatee Lagoon – An FPL Eco-Discovery Center®
Manatee Lagoon – An FPL Eco-Discovery Center® features free admission and provides visitors engaging opportunities to learn about the threatened and unique Florida manatee and the Lake Worth Lagoon ecosystem it inhabits. The center hosts field trips for science programs, offering site-based enrichment and educational activities. Visitors will also understand the role power plants play in sustaining the species. The warm-water outflows from the adjacent FPL Riviera Beach Next Generation Clean Energy Center attract hundreds of manatees each year during cold winter months. The waterfront facility provides opportunities for the public to learn more about these marine mammals and what is needed to protect their environment. The 16,000-sq.-ft. center is open 9 a.m. to 4 p.m., Tuesday through Sunday, and is closed on major holidays. It offers two levels of exhibit and meeting space, an observation deck to observe manatees in the Lagoon, a picnic area, pavilion, and gift shop. Manatee Lagoon hosts field trips and myriad educational and recreational activities from yoga and art classes to Junior Aqua Labs and an environmental lecture series. For more information, go to: VisitManateeLagoon.com.
About Norman Gitzen Gallery
Norman Gitzen's love of art and nature was evident at an early age growing up in Central New York where he roamed the woods, built forts, collected stones, and modeled with clay. These experiences of his childhood foreshadowed his life today as an artist specializing in architectural sculptures in many artistic mediums, including bronze. Always the concerned environmentalist, Norman works to promote awareness and appreciation for our precious wildlife through his pieces and is also active in community affairs and Everglades preservation. An accomplished artisan since the 1980s, Norman's distinctive style of decorative metal, stone and wood sculpture can be found in private collections and public displays throughout the Palm Beaches. His work can be seen at the Serendipity Gallery on Worth Avenue in Palm Beach.
About Quest Workspaces
The mission of Quest Workspaces is to inspire others and help companies grow through our enriching workplace culture that is spirited, welcoming and effective. By combining stylish, upscale, and functional workspaces, with an eclectic community of professionals and a best in class support team – we all thrive. Decades of hospitality and workplace experience combined with an ethos of innovation and constant improvement is why Quest Workspaces is a leader in coworking. We believe that the synergy in working together creates greater workplace happiness and financial results for our Quester companies. The Quest Community is about connecting, collaborating, and socializing, but we take it one step further by facilitating opportunities to build your businesses. We are all about service! Cultivating a service culture is what Quest does best. Hospitality is in our DNA. Our team loves what they do – and it shows! Quest Workspaces is the ideal combination of hospitality, quality, and community. From coworking to private office space, informal chat rooms to formal boardrooms, business-building events to happy hours and more. Surround yourself with seasoned entrepreneurs to industry titans. Come see for yourself!  www.questworkspaces.com
About Sea to Shore Alliance
Sea to Shore Alliance, through research, education, and conservation, works to improve the health and productivity of coastal environments for the endangered species and human livelihoods that depend on them. Sea to Shore Alliance is a Florida-based 501(c)(3) grassroots, field-based research, conservation, and education organization with projects in the U.S., Belize, Cuba, and West Africa. Projects focus on three key species: manatees, sea turtles, and right whales. Please visit www.Sea2Shore.org to learn more.
About Surface 71
Surface 71 is a student-driven service and learning project aimed at raising public awareness as to the human impact on Earth's water resources by creating change through the refusal, reuse, reduction, and recycling of plastics to curb their effects on marine health and the environment. The project, which was borne as an IB service and learning project at Conniston Middle School (West Palm Beach, Florida); is aptly named Surface 71, since 71% of Earth's surface is covered in water, a vital resource for our existence.