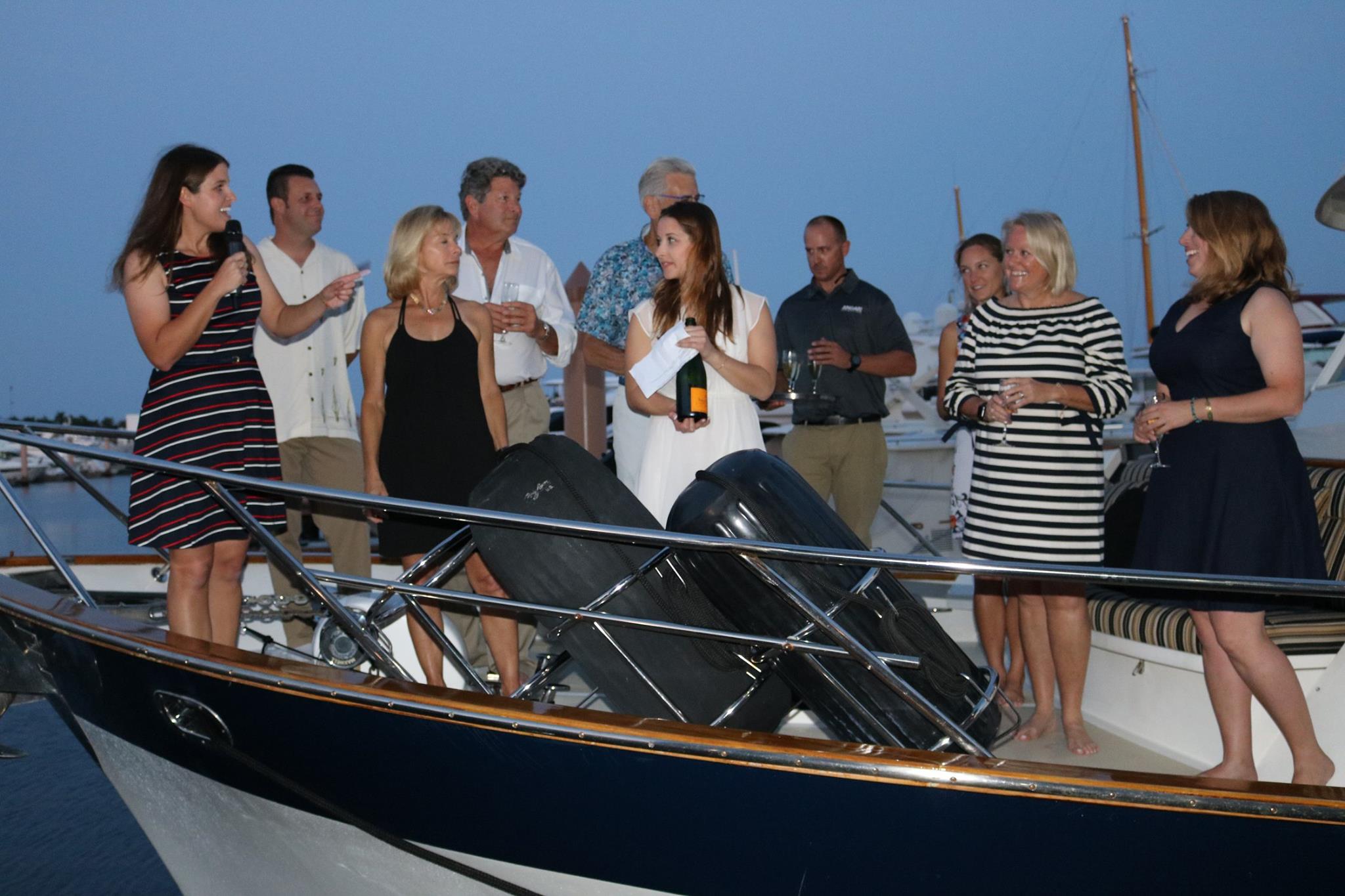 ANGARI Foundation Launch and Vessel Christening a Great Success
West Palm Beach, Florida (April 17, 2017) – ANGARI Foundation's Board of Directors, staff, volunteers and supporters came together to celebrate the Foundation's mission and officially christen the research vessel R/V ANGARI. With over 150 guests attending the launch event at R/V ANGARI's home port, Palm Harbor Marina in West Palm Beach, the evening's program commemorated ANGARI Foundation's purpose, offered tours of R/V ANGARI and provided a virtual reality film experience as an example of the educational programs that ANGARI Foundation is developing.
The Foundation's President Angela Rosenberg welcomed guests with a video describing the family's history and passion for the ocean, marine science and film that were the genesis of the Foundation. Guests then joined the Board of Directors, the ANGARI team and special guests representing non-founder donors, the refit project group and Foundation volunteers in the christening ceremony and champagne toast that was led by Angela Rosenberg and Kari Rosenberg, Vice President of Production.
The Rosenberg family would like to express their gratitude to all who attended this special event and to all who have supported ANGARI Foundation to date. The Foundation also appreciates the generosity of its event sponsors for the evening, including AAMusicians, Executive Valet, Hamptons Palm Beach, Miami Club Rum, Monkey In Paradise, Palm Harbor Marina, Private Cask Imports and Sailfish Brewing Company.
---
About ANGARI Foundation
ANGARI Foundation is a 501(c)(3) private operating foundation established in 2016 by Chris, Lee, Angela and Kari Rosenberg and headquartered in West Palm Beach, FL. The Foundation is dedicated to creating a global community that is interested, knowledgeable and invested in marine and environmental sciences by directly supporting research initiatives that foster a greater trust and dialogue between scientists and the public. ANGARI Foundation also uses innovative technology, film and other media to raise awareness and strengthen science education. Many of the Foundation's primary initiatives involve R/V ANGARI, a 65-foot vessel that serves as an exceptional research and education platform. For more information visit www.angari.org.
Media Contact:
Angela Rosenberg
media@angari.org
Tel:  305-299-4458