Dolphins Go Wild in Southeast Florida
Dr. Barbara Brunnick, Research Director
Taras Oceanographic Foundation

Dr. Brunnick shares her career studying dolphins, as well as details of the research being done under the Palm Beach Dolphin Project.
September 28th, 2023 @ 1 PM ET
Select Supplemental Content:
Educators- would you like to be kept up to date on ANGARI ocean science education content & programs like this? If so, please complete our Educator Registration form!
PRESENTER BIO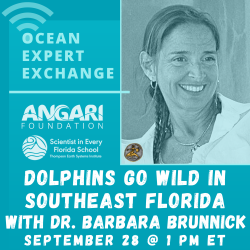 Dr. Barbara Brunnick has been following her passion for whales and dolphins since childhood and has been a driving force in research and conservation for their benefit ever since. She was among the first to swim with, film and record the underwater sounds of killer whales in the wild, worked on the only successful capture-release program of two bottlenose dolphins, and conducted a groundbreaking study on wild Atlantic Spotted dolphins. As the Director of the Palm Beach Dolphin Project at Taras Oceanographic Foundation, she keeps track of bottlenose dolphins living or visiting southeast Florida. Dr. Brunnick has also developed a new generation of critical habitat maps with a level of detail and accuracy not seen before. Over the last 30 years, Barbara has delivered 1000+ presentations on whales, dolphins, mapmaking and marine conservation, reaching countless people world-wide. She co-authored a book on bottlenose dolphins, and a biography about her mentor entitled "An Ocean of Inspiration – The John Olguin Story." A Fellow of the Explorers Club, she is included in "Adventurous Dreams, Adventurous Lives" with 120 other outstanding individuals who followed their passions in exceptional ways. Dr. Brunnick earned her bachelor's degree in biology from the University of California, Santa Cruz and Ph.D. in ecology from Union Institute and University.
Ocean Expert Exchange is a live educational webinar series featuring experts in marine science and technology, many of whom have participated in expeditions onboard R/V ANGARI. The 30-minute live events welcome audiences of all ages and include a presentation on the speaker's area of expertise followed by Q&A with participants. The series is co-hosted by ANGARI Foundation and the University of Florida Thompson Earth Systems Institute's Scientist in Every Florida School program.