Octopus Fieldwork: Behavior to Bacteria
Dr. Chelsea Bennice, Assistant Director of Community Engagement & Programming, Research Scientist, Science Writer
Florida Atlantic University and OctoNation

Dr. Bennice shares her field research on South Florida octopuses, including innovative tools she has developed to answer challenging scientific questions.
Select Supplemental Content:
Educators- would you like to be kept up to date on ANGARI ocean science education content & programs like this? If so, please complete our Educator Registration form!
PRESENTER BIO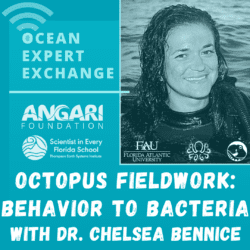 Dr. Chelsea Bennice is a marine biologist, science communicator and Ohio native. She earned a B.S. from The Ohio State University and M.S. and Ph.D. from Florida Atlantic University (FAU). Her research interests include animal behavior and marine ecology, with a focus on octopuses and their relatives. Chelsea collaborates with scientists worldwide on octopus projects to advance basic and applied sciences. She is an FAU research scientist and serves as a lead scientific diver and board member of the Scientific Diving & Boating Safety Committee. Her current research focuses on octopus behavior and microbiology. With 1,000 hours underwater studying Florida octopuses, she's earned the name Octo Girl. Her research is highlighted in popular articles, scientific publications, podcasts and documentaries. An advocate for bridging scientists and the community, she is assistant director of STEM education community programs at FAU's Stiles-Nicholson Brain Institute and science writer for OctoNation, a non-profit with the mission to inspire ocean exploration and conservation by educating the world about octopuses. During her free time, you'll find Chelsea geared-up, ready to dive with her camera. She enjoys using underwater photography to share her passion for ocean sciences.
Ocean Expert Exchange is a live educational webinar series featuring experts in marine science and technology, many of whom have participated in expeditions onboard R/V ANGARI. The 30-minute live events welcome audiences of all ages and include a presentation on the speaker's area of expertise followed by Q&A with participants. The series is co-hosted by ANGARI Foundation and the University of Florida Thompson Earth Systems Institute's Scientist in Every Florida School program.