Discovery of Potential Cancer Therapeutics From Marine Organisms
Dr. Esther Guzmán

,

Research Professor
Harbor Branch Oceanographic Institute
at Florida Atlantic University
Dr. Guzmán discusses how marine natural products may help us fight cancer.
Select Supplemental Content:
Educators- would you like to be kept up to date on ANGARI ocean science education content & programs like this? If so, please complete our Educator Registration form!
PRESENTER BIO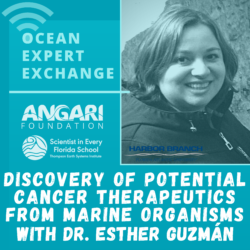 Dr. Esther Guzmán received her BS in Molecular Biology/Biotechnology at Salem-Teikyo University in 1996. She then worked for a year at the HIV database at Los Alamos National Laboratories. She obtained her PhD in Immunology from the University of Texas MD Anderson Cancer Center in Houston in 2004, followed by postdoctoral positions at the Henry Ford Hospital in Detroit and at Harbor Branch Oceanographic Institution (HBOI). In 2007, Dr. Guzmán became the leader of the Cancer Cell Biology Program at the Marine Biomedical and Biotechnology Research at HBOI. This program focuses on drug discovery for cancer. Her work at HBOI has resulted in the discovery of novel anti-cancer properties for many marine natural products, and the development of assays to identify compounds that target important signaling pathways aberrant in cancers. She is an author on over 30 peer reviewed publications on cancer biology and is an inventor on 3 U.S. patents covering the anti-cancer use of marine natural products.
Ocean Expert Exchange is a live educational webinar series featuring experts in marine science and technology, many of whom have participated in expeditions onboard R/V ANGARI. The 30-minute live events welcome audiences of all ages and include a presentation on the speaker's area of expertise followed by Q&A with participants. The series is co-hosted by ANGARI Foundation and the University of Florida Thompson Earth Systems Institute's Scientist in Every Florida School program.