Stories That Bones Tell: Manatees
Dr. Danielle Ingle, Postdoctoral Research Associate
Texas A&M University at Galveston

Dr. Ingle takes you through the wonderfully weird evolution of manatee skeletons and gives you a closer look into how their bones provide clues about their aquatic lives. 
Select Supplemental Content:
Educators- would you like to be kept up to date on ANGARI ocean science education content & programs like this? If so, please complete our Educator Registration form!
PRESENTER BIO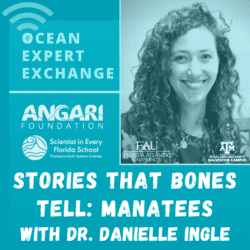 Dr. Danielle Ingle is a marine biologist, functional morphologist, and biomechanist. She earned a B.S. from the University of Northern Colorado and graduated with both her M.S. and Ph.D. from Florida Atlantic University (FAU). Her research interests focus on investigating connections between the structure and mechanical behavior of hard tissues that comprise the feeding apparatuses and skeletons of marine megafauna such as dolphins, manatees, and sea turtles. She has a particular passion for bones; during graduate school, she and a team of volunteers articulated the skeleton of an adult bottlenose dolphin, which is on display in FAU's science atrium. Currently, she works as a Postdoctoral Research Associate with the EcoMorphLab and the Gulf Center for Sea Turtle Research at Texas A&M University at Galveston. In her free time you can find her at the beach or mountain climbing in her home state of Colorado.
Ocean Expert Exchange is a live educational webinar series featuring experts in marine science and technology, many of whom have participated in expeditions onboard R/V ANGARI. The 30-minute live events welcome audiences of all ages and include a presentation on the speaker's area of expertise followed by Q&A with participants. The series is co-hosted by ANGARI Foundation and the University of Florida Thompson Earth Systems Institute's Scientist in Every Florida School program.