Seeing Red: Florida's Harmful Algal Bloom
Dr. Lisa Krimsky, Water Resources Regional Specialized Agent
University of Florida IFAS Extension
and Florida Sea Grant

Dr. Krimsky addresses some of the most frequently asked questions about red tides including causes and impacts of red tides and the current bloom status in Florida.
Select Supplemental Content:
Educators- would you like to be kept up to date on ANGARI ocean science education content & programs like this? If so, please complete our Educator Registration form!
PRESENTER BIO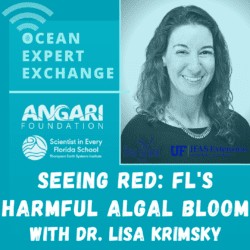 Dr. Lisa Krimsky is a Water Resource Regional Specialized Agent with the University of Florida IFAS Extension and Florida Sea Grant Program. Lisa's primary focus is on coastal water quality and harmful algal blooms in Florida. Her efforts help solve water resource issues that are critical to economic development and environmental protection in Florida. Lisa is the Principal Investigator for The Development of a Red Tide Communication Plan for Florida, a project identified as a priority by the state's Harmful Algal Bloom (HAB) Task Force. The project's goal is to create a comprehensive communication plan to help better inform residents, visitors and businesses of HAB occurrences and mitigate risks through improved communication. Lisa is also a member of the state's HAB Communications Working Group. Prior to joining Florida Sea Grant, Lisa earned her Bachelor's degree in Environmental Science and Policy from the University of Maryland and Ph.D. in Marine Studies from the University of Delaware's College of Earth, Ocean, & Environment.
Ocean Expert Exchange is a live educational webinar series featuring experts in marine science and technology, many of whom have participated in expeditions onboard R/V ANGARI. The 30-minute live events welcome audiences of all ages and include a presentation on the speaker's area of expertise followed by Q&A with participants. The series is co-hosted by ANGARI Foundation and the University of Florida Thompson Earth Systems Institute's Scientist in Every Florida School program.