Students and teachers from Jupiter Community High School's Environmental Research and Field Studies Academy experienced an exciting day of shark research in the Lake Worth Lagoon with ANGARI crew and Florida International University scientists.
Sara Casareto
Mia Gabb
Sophia Hemsi
Deirdre Stinson
Davon Strickland

All sharks were fished for, caught, studied and released for research purposes under Florida permits held by Florida International University scientists.
Jupiter High School's Environmental Research and Field Studies Academy (JERFSA) students and teachers joined Florida International University's (FIU) College of Arts, Sciences and Education scientists and ANGARI crew for a Coastal Ocean Explorers: Sharks expedition onboard R/V ANGARI.  JERFSA is a four-year magnet school program at Jupiter Community High School designed to meet the needs of students who wish to pursue an academic curriculum with an emphasis on environmental studies, and this was the fourth COE: Sharks expedition to welcome JERFSA participants onboard. During the expedition, the students were able to learn and practice field research methods and skills while working side-by-side with the FIU scientists to study sharks within the Lake Worth Lagoon. The students began the day with the assembly, deployment and recovery of a baited remote underwater video system (BRUVS) that enabled a non-invasive look into local marine life. The participants also practiced their species identification and analysis skills on curated Global FinPrint footage.
Once the BRUVS deployment was complete, drumline fishing began. Drumlines are a research-specific type of fishing gear that reduces stress on caught sharks by allowing them to continue to swim freely after being hooked. The students worked diligently to bait, assemble, deploy and recover drumline sets. The fishing efforts were a success, with two nurse sharks (Ginglymostoma cirratum) caught over the course of the day! After the scientists safely secured each animal to the swim platform, the students took turns on the swim platform assisting with a quick scientific workup of each shark prior to its release. The students worked with the scientists to determine the sex of the shark, collect a series of measurements, take a small fin clip sample from the dorsal fin, and attach a uniquely numbered identification tag from the NOAA Cooperative Shark Tagging program. All of the JERFSA participants were able to observe a nurse shark up close and feel the dermal denticles that give their skin its rough texture. Everyone onboard capped off the successful and exciting day of hands-on shark research with an expedition debrief and discussion of marine science career pathways.
This expedition was supported by the generous donors of ANGARI Foundation.
CHIEF SCIENTIST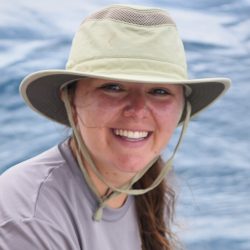 Sara Casareto is a Ph.D. candidate in the Marine Community and Behavioral Ecology Lab at Florida International University.  Her work focuses on behavioral ecology and trophic interactions. Her current research centers around elasmobranch biology and ecology, looking at different factors that affect juvenile shark behavior and decision making in coastal waters. The specific questions she is interested in involve risk from larger sharks, abiotic factors like salinity and temperature, and the presence/absence of different shark species. Originally from Maryland, Sara has been in Florida since 2016. She holds a B.S. in Biology-Marine Science from the University of Tampa and has studied marine species ranging from sharks to photosynthetic sea slugs. Sara hopes to further her career in predator-prey interactions to help elucidate management and conservation strategies for shark and ray populations. A passionate educator, Sara is involved in outreach through National Geographic and The Rookery Bay National Estuarine Research Reserve and ANGARI Foundation.