Santaluces Community High School students and teachers spent the day onboard R/V ANGARI with Florida International University scientists as part of our Coastal Ocean Explorers: Sharks hands-on education program.
Sara Casareto
Mia Gabb
Erin Johnson
William Sample
Sara Schoen
All sharks were fished for, caught, studied and released for research purposes under Florida permits held by Florida International University scientists.
ANGARI crew and scientists from Florida International University's (FIU) College of Arts, Sciences & Education welcomed aboard 13 Advanced International Certificate of Education (AICE) Marine Science students and three teachers from Santaluces Community High School for a Coastal Ocean Explorers: Sharks expedition onboard R/V ANGARI. After a safety briefing, introductions to the ANGARI crew and FIU scientists, and initial instruction, the students got to work assisting with the assembly of a baited remote underwater video system (BRUVS) which they deployed into the Lake Worth Lagoon. The BRUVS consists of a large metal frame with an attached bait box and GoPro camera. This piece of field equipment gives scientists a visual record of what species are present within the area study area. After an hour soak, the participants and scientists worked together to bring the BRUVS back onboard and reviewed the video footage. Everyone was excited to find that the BRUVS camera had recorded a passing lemon shark, a first for the program's deployments in the lagoon!
Students worked in teams throughout the day, taking turns on deck with the FIU scientists where they fished for sharks with drumlines, a research-specific type of fishing gear designed to minimize stress on caught sharks. The students and teachers participated in all the steps of the process, from baiting circle hooks to assembling, deploying and recovering the drumlines, and recording relevant data. In addition to the BRUVS and drumline deployments, the Santaluces participants also had the opportunity to discuss marine career pathways with the scientists and crew, and participated in a variety of activities that allowed them to practice and hone their scientific observation and species identification skills.
This expedition was made possible with funding from the Great Charity Challenge.
CHIEF SCIENTIST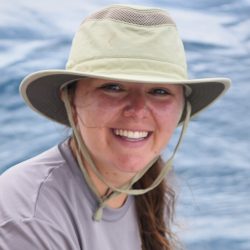 Sara Casareto is a Ph.D. candidate in the Marine Community and Behavioral Ecology Lab at Florida International University.  Her work focuses on behavioral ecology and trophic interactions. Her current research centers around elasmobranch biology and ecology, looking at different factors that affect juvenile shark behavior and decision making in coastal waters. The specific questions she is interested in involve risk from larger sharks, abiotic factors like salinity and temperature, and the presence/absence of different shark species. Originally from Maryland, Sara has been in Florida since 2016. She holds a B.S. in Biology-Marine Science from the University of Tampa and has studied marine species ranging from sharks to photosynthetic sea slugs. Sara hopes to further her career in predator-prey interactions to help elucidate management and conservation strategies for shark and ray populations. A passionate educator, Sara is involved in outreach through National Geographic and The Rookery Bay National Estuarine Research Reserve and ANGARI Foundation.