Students and teachers from the SciQuest Academy worked side-by-side with Florida International University scientists onboard R/V ANGARI to study marine life in the Lake Worth Lagoon.
Sara Casareto
Gina Clementi
William Sample
Erin Spencer

All sharks were fished for, caught, studied and released for research purposes under Florida permits held by Florida International University scientists.
The SciQuest Academy at Independence Middle School is a challenging 3-year, project-based program that explores the world of science with hands-on activities and stimulating technologies. As part of the Coastal Ocean Explorers: Sharks program, SciQuest students and alumni from Melissa Kazakavage's classes boarded R/V ANGARI for an exciting day of shark science with researchers from Florida International University's College of Arts, Sciences and Education. Throughout the day the participants employed multiple research methods, including baited remote underwater video system (BRUVS) surveys and drumline fishing, to study sharks and other fish within the Lake Worth Lagoon.
The students and teachers participated in the set up, deployment and retrieval of fishing and survey equipment, as well as the analysis of collected data. For fishing, specialized shark research gear known as drumlines were deployed. Drumlines allow caught sharks to swim freely in their environment after being hooked, which minimizes stress on the animal before its quick workup and release. A non-invasive method of studying sharks and other marine life known as BRUVS, was also used. BRUVS consist of a camera and bait box mounted to a metal frame that is placed on the seafloor. Underwater video footage collected via BRUVS can be used to estimate marine life abundance and species diversity in a region, as well as examine marine life behavior. After recovering the BRUVS, the participants reviewed the video footage in R/V ANGARI's indoor lab, working in teams to put into practice their species identification skills. While no sharks were sighted on this expedition, they were delighted to capture some curious visitors like a scrawled cowfish and great barracuda on film.
This expedition was sponsored by SciQuest Academy and supported by the generous donors of ANGARI Foundation.
CHIEF SCIENTIST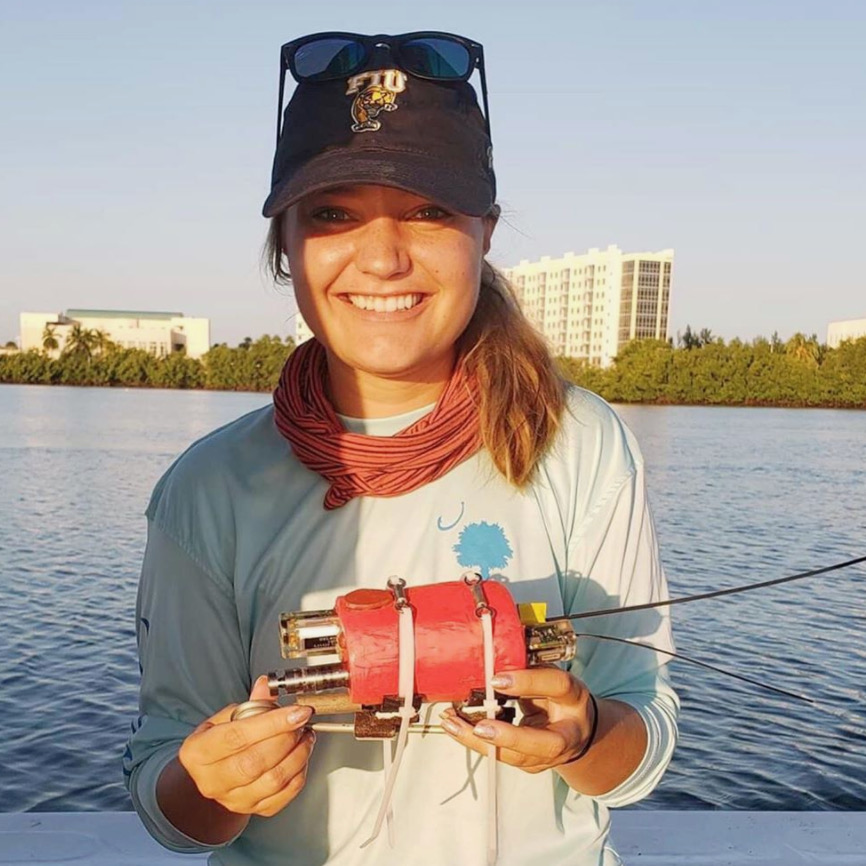 Erin Spencer is a science writer, marine ecologist and Ph.D. candidate in Biology at FIU. Her research uses biologgers, or animal-mounted data collecting devices, to record acceleration, speed, depth, etc. that helps us understand great hammerhead shark energy needs and movement patterns. Prior to working in Florida, she received a M.S. in Ecology from the UNC – Chapel Hill where she studied red snapper fishery management and seafood mislabeling, and a B.S. in Ecology from the College of William and Mary where she studied invasive lionfish management. She is a three-time National Geographic Explorer grantee and has given talks to groups of all ages through National Geographic, the World Bank, TEDx, and schools. Erin is an avid writer and published a children's book called The World of Coral Reefs.