Researchers from Florida International University came aboard R/V ANGARI to investigate marine life such as sharks, eels and rays in the Lake Worth Lagoon.
Sara Casareto
Erin Spencer

All sharks were fished for, caught, studied and released for research purposes under Florida permits held by Florida International University scientists.
The Lake Worth Lagoon is a unique estuary at the heart of Palm Beach County stretching 20 miles north to south. Marine species from the Atlantic Ocean are known to travel in and out of the Lagoon through two man-made inlets. In order to assess what species of marine megafauna, including large sharks, eels and rays, can be found inside the Lagoon, scientists from Florida International University's College of Arts, Sciences and Education joined the crew onboard R/V ANGARI for a day of investigative science in the northern end of the Lake Worth Lagoon. Sites near Little Lake Worth, Blue Heron Bridge and the Lake Worth Inlet were sampled using baited remote underwater video systems (BRUVS) and handlines to gain a representative picture of which species are using the area. 
BRUVS are a noninvasive research method used by scientists around the world to investigate predatory fish species living in a particular area. BRUVS have a camera and bait box mounted to a hard frame that is placed on the seafloor. From the footage collected, scientists are able to estimate abundance, study behavior and assess diversity of species in the region. The team also deployed baited handlines with the intent of catching large predatory species of fish nearby. However, nothing was caught using these handlines. 
CHIEF SCIENTIST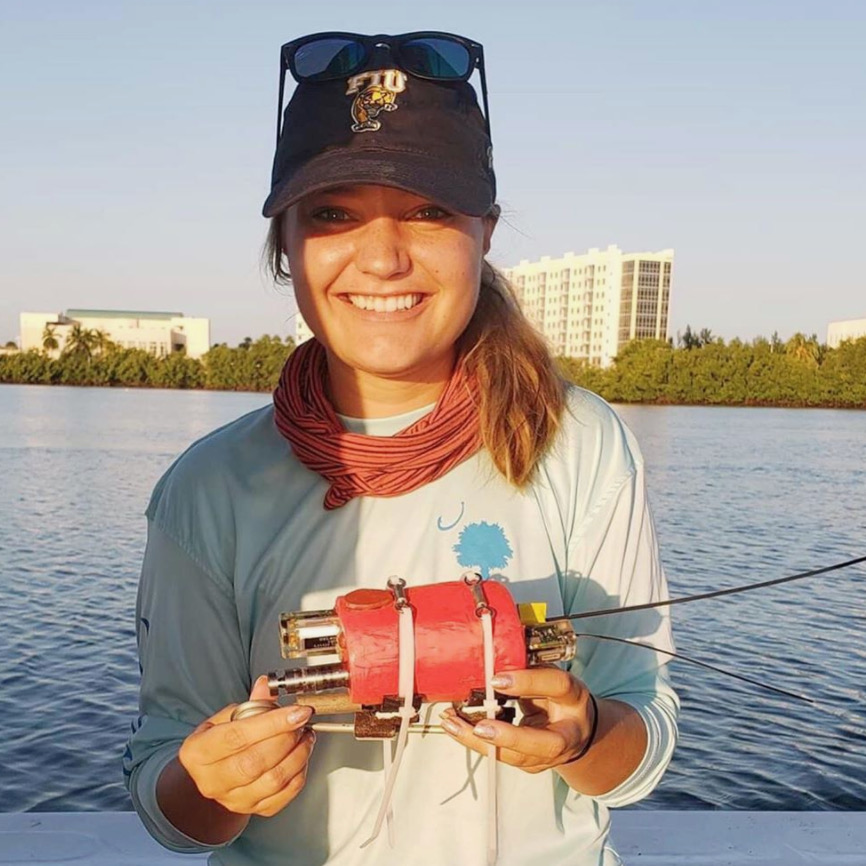 Erin Spencer is a science writer, marine ecologist and Ph.D. candidate in Biology at FIU. Her research uses biologgers, or animal-mounted data collecting devices, to record acceleration, speed, depth, etc. that helps us understand great hammerhead shark energy needs and movement patterns. Prior to working in Florida, she received a M.S. in Ecology from the UNC – Chapel Hill where she studied red snapper fishery management and seafood mislabeling, and a B.S. in Ecology from the College of William and Mary where she studied invasive lionfish management. She is a three-time National Geographic Explorer grantee and has given talks to groups of all ages through National Geographic, the World Bank, TEDx, and schools. Erin is an avid writer and published a children's book called The World of Coral Reefs.