Youth volunteers and staff from Broward County Libraries joined scientists from Florida International University onboard R/V ANGARI for a day of ocean and shark science.
Laura García Barcia
Sara Casareto
Candace Fields
Sara Schoen
Erin Spencer

All sharks were fished for, caught, studied and released for research purposes under Florida permits held by Florida International University scientists.
As part of Broward County Library's Oceans of Possibilities summer learning program, youth library volunteers and staff joined researchers from the Florida International University College of Arts, Sciences and Education for an immersive day of marine science at-sea. Everyone worked together to assemble, deploy and retrieve specialized shark research fishing gear, called drumlines, less than two miles offshore Palm Beach County to support ongoing shark research initiatives.
While the day's operations at-sea were cut short due to inclement weather conditions, the participants were able to learn about current marine science research projects from the FIU research team and examine fin and jaw specimens from various species of sharks. Chief Scientist Laura García Barcia, whose toxicology work focuses on understanding how mercury is accumulated in sharks, shared the implications this phenomenon has on human health and the shark fin trade. The group also heard from Erin Spencer, who deploys biologgers, or animal-mounted data collecting devices, on great hammerhead sharks to learn more about their movement and behavior. Scientists Candace Fields and Sara Schoen shared their research projects aimed at understanding endangered oceanic whitetip sharks in The Bahamas, and the use of of statistics and video technology to learn more about iconic reef fish like barracuda, respectively. 
The day wrapped up back at the docks where the Broward County Library's Coordinator for Digital Initiatives, Bob Anstett, worked with the students to deploy an QYSEA Fifish V6S underwater ROV to investigate the structures and marine life beneath the water's surface.
This expedition was supported by the generous donors of ANGARI Foundation.
CHIEF SCIENTIST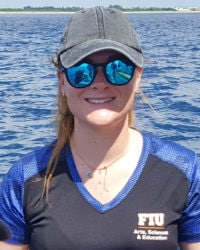 Laura García Barcia is a Ph.D. candidate in the Predator Ecology & Conservation Lab at FIU. She is an environmental biologist particularly interested in marine wildlife conservation. Her research focuses on two main topics: the shark fin trade and the impacts of heavy metal pollution on coastal shark species. Through the use of genetics and toxicology, she explores fascinating questions, including the identification of where shark fins sold in Hong Kong come from, whether shark fin soup is a safe product to consume for humans, or at what life stage sharks are more vulnerable to pollutants found in our waters. The ultimate goal of Laura's research is to inform conservation measures that help improve the status of shark populations. Laura is passionate about public education, and the ultimate goal of her research is to inform conservation measures that help improve the status of shark populations.