Thirteen Florida teachers boarded R/V ANGARI for the Coastal Ocean Explorers: Sharks Summer 2022 Teacher Workshop in partnership with Florida International University scientists.
Laura García Barcia
Sara Casareto
Candace Fields
Sara Schoen
Erin Spencer

All sharks were fished for, caught, studied and released for research purposes under Florida permits held by Florida International University scientists.
ANGARI Foundation teamed up with Florida International University (FIU) researchers from the College of Arts, Sciences & Education to invite elementary, middle and high school teachers from across the state of Florida to participate in our Summer 2022 Coastal Ocean Explorers: Sharks Teacher Workshop. This three-day event featured onshore programming focused on the importance of sharks in marine ecosystems and exploration of the methods scientists employ to study them. Program partners also shared educational activities and lessons developed to help teachers share science concepts with their students in new and exciting ways. The teacher's workshop experience culminated with a shark research expedition onboard R/V ANGARI offshore Palm Beach County. Here, teachers worked side-by-side with the FIU scientists to prepare, deploy and recover drumlines, which is research specific shark fishing gear designed to reduce stress on the animals. 
Over the course of the expedition, two nurse sharks were caught, sampled and released. During the brief workups on these sharks, the teachers were able to assist with gathering length measurements, identifying sex and collecting dorsal fin tissue samples. The teachers also had the opportunity to observe and feel the sandpaper-like texture of the dermal denticles on the surface of the nurse shark's skin. 
During the day, a member of the FIU team successfully recovered the biologger tag, which had been deployed on a large great hammerhead shark during the previous day's expedition. This noninvasive tag collects speed, acceleration and position data that helps Chief Scientist Erin Spencer investigate the movement and behavior of great hammerheads. The biologger released from the shark's dorsal fin after 24 hours, at which time it floated to the ocean's surface. Satellite and VHF signals were used to locate and recover it with the assistance of Officers Reinhardt and Landers, Florida Fish and Wildlife Conservation Commission's Law Enforcement Division.
The Coastal Ocean Explorers: Sharks Summer 2022 Teacher Workshop was hosted and sponsored by ANGARI Foundation. In-kind contributions from Florida International University, Quest Workspaces, The Ben West Palm and Hilton Garden Inn helped make this program possible.
CHIEF SCIENTISTS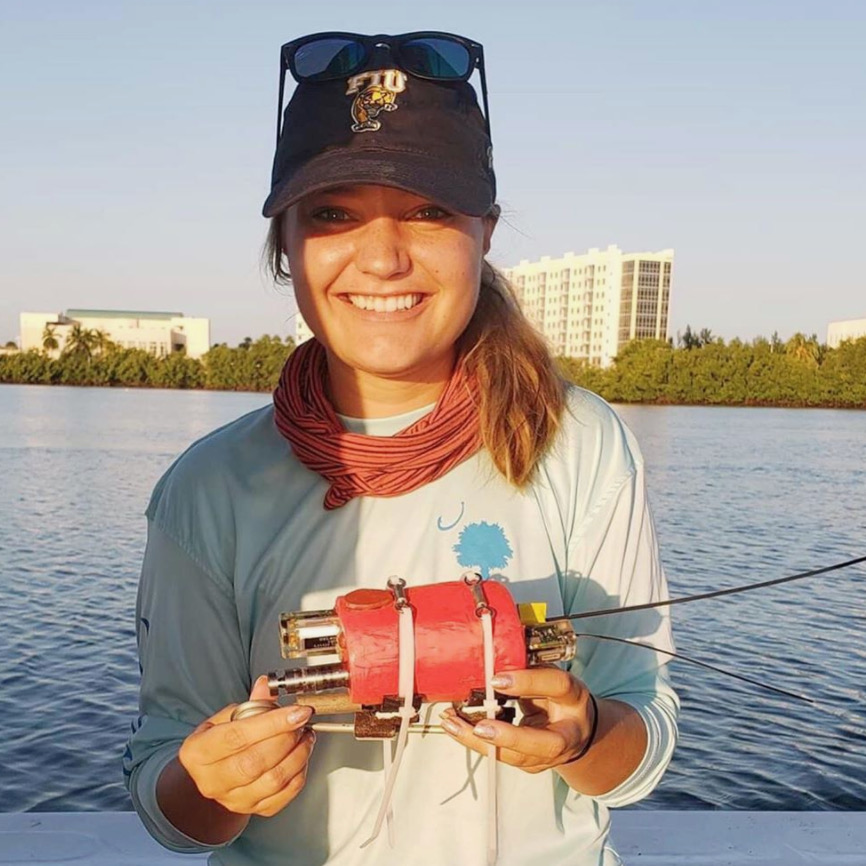 Erin Spencer is a science writer, marine ecologist and Ph.D. candidate in Biology at FIU. Her research uses biologgers, or animal-mounted data collecting devices, to record acceleration, speed, depth, etc. that helps us understand great hammerhead shark energy needs and movement patterns. Prior to working in Florida, she received a M.S. in Ecology from the UNC – Chapel Hill where she studied red snapper fishery management and seafood mislabeling, and a B.S. in Ecology from the College of William and Mary where she studied invasive lionfish management. She is a three-time National Geographic Explorer grantee and has given talks to groups of all ages through National Geographic, the World Bank, TEDx, and schools. Erin is an avid writer and published a children's book called The World of Coral Reefs.
____________________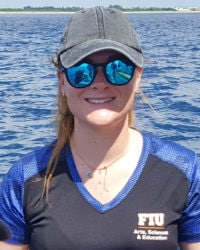 Laura García Barcia is a Ph.D. candidate in the Predator Ecology & Conservation Lab at FIU. She is an environmental biologist particularly interested in marine wildlife conservation. Her research focuses on two main topics: the shark fin trade and the impacts of heavy metal pollution on coastal shark species. Through the use of genetics and toxicology, she explores fascinating questions, including the identification of where shark fins sold in Hong Kong come from, whether shark fin soup is a safe product to consume for humans, or at what life stage sharks are more vulnerable to pollutants found in our waters. The ultimate goal of Laura's research is to inform conservation measures that help improve the status of shark populations. Laura is passionate about public education, and the ultimate goal of her research is to inform conservation measures that help improve the status of shark populations.