An L.A. film crew and scientists onboard R/V ANGARI participated in lots of diving and filming in South Florida to film ANGARI Foundation's virtual reality pilot.  
ANGARI Foundation's VP of Production Kari Rosenberg brought her crew of cinematographers, directors, and producers from Los Angeles to film on and off R/V ANGARI on location in South Florida. ANGARI board members, crew, and science affiliates joined the expedition and participated in filming for several special projects, including 3 days of diving offshore Miami and in Biscayne Bay with local scientific divers and coral reef scientists. It was an exciting trip for all involved.
ANGARI Foundation thanks Island Gardens Deep Harbour for supporting this expedition. 

Chief Scientist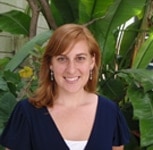 Dr. Brooke Gintert has been a professional science diver since the age of 17 when she found an on-campus job at Occidental College as a scientific research assistant studying fish assemblages in Southern California. After seeing giant black seabass, blue whales, and even getting a fish-eye view of a great white shark as part of her undergraduate research, Brooke graduated with a Bachelors degree in Biology with a Marine Science emphasis from Occidental College and moved to Miami to begin a Doctoral program at the University of Miami's Rosenstiel School of Marine and Atmospheric Science. There, she has worked with a team of researchers developing and applying a novel underwater photomosaicing technology to understand Caribbean coral community dynamics. Using this technology, Brooke has partnered with NOAA, the U.S. Navy, the National Park Service, The Nature Conservancy, Florida Fish and Wildlife Conservation Commission, and researchers from Puerto Rico, St. Croix, the U.S. Virgin Islands, and Australia to map and monitor coral reefs around the world.
EXPEDITION VIDEO & PHOTO GALLERY