Participants in the 2018 Oceanography Camp for Girls became oceanographers for the day aboard R/V ANGARI, exploring and implementing numerous scientific methods for studying the marine world.
Over the course of three days, young oceanographers, scientists, and mentors from University of South Florida College of Marine Science's Oceanography Camp for Girls came aboard R/V ANGARI to participate in fieldwork throughout and offshore of Tampa Bay. The budding oceanographers collected scientific data using a wide range of methods, including hydrocasts, nutrient assays, water quality measurements, and bottom sediment sampling. The participants also used plankton tows and otters trawls to collect marine life, identifying and assessing everything from marine algae to fish and invertebrates.
Thank you to the Florida Institute of Oceanography at the USF College of Marine Science for supporting this expedition by providing scientific gear and dockage for R/V ANGARI, and to Florida Fish and Wildlife Conservation Commission for providing the trawl net.
CHIEF SCIENTIST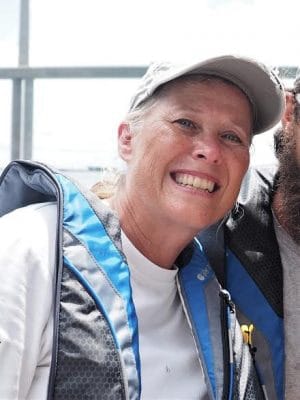 Dr. Teresa Greely is a Biological Oceanographer and Science Educator at the University of South Florida where she provides expertise in the areas of biological oceanography, ecological physiology, marine fishes, and ocean science education. She has broad research interests that encompass teaching and training about the ocean sciences in three areas: graduate and undergraduate education, teacher education, and ocean literacy amongst youth.
Dr. Greely currently coordinates four education programs: The Oceanography Camp for Girls (OCG), the In-service Teacher Oceanography Workshops (In-TOW), the National Ocean Science Bowl's regional Spoonbill Bowl competition, and the OCEANS Teaching Fellowships.